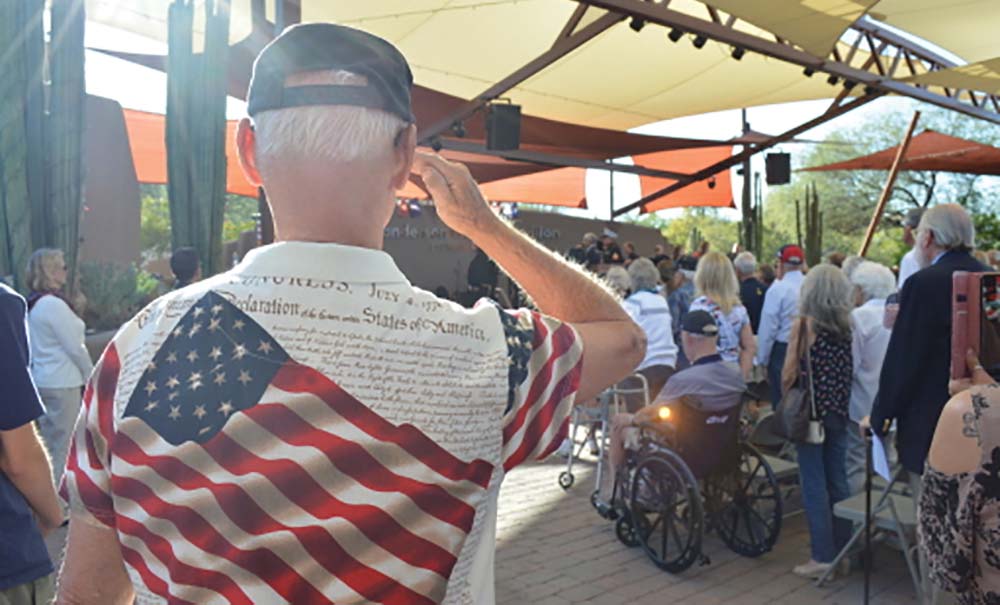 The Town of Carefree is privileged to host its 14th annual Veterans Day celebration to honor our veterans on Saturday, Nov. 11, from 3-5 p.m., in the Carefree Desert Gardens, 101 Easy St., at the Sanderson Lincoln Pavilion stage.

Our Veterans Day program will include a mixture of exciting patriotic and military music. Local Carefree students will sing the Star Spangled Banner, and the Main Event Swing Band (www.maineventaz.com) will perform favorites. As a special treat, the Carolyn Eynon Singers (www.cesingers.org), specializing in choral music, will perform patriotic songs and military hymns. You are guaranteed to long remember their performance. By popular request, the finale will once again include the bugle call, The Last Post, and TAPS on "dueling bugles."

US Army Sergent Mack Johnson will share memories of his service as a Korean War Veteran and an Imjin Scout, a piece of history about which few of us are aware. Sgt Johnson will include a recollection of his USO experience, Bob Hope, and the Donut Dollies.

The Carefree Veterans Day program would be incomplete without the participation of Veterans Heritage Project (VHP) students. (www.veteransheritage.org) This year VHP alumni and US Air Force Captain Elizabeth (Lizzy) Satran will share what VHP has meant to her. VHP Cactus Shadows High School students will be in attendance and will display a student built veteran exhibit. VHP student veteran interviews compiled in books entitled, "Since You Asked: Veterans Share Their Memories," will be for sale.

Before or after the program, take a moment at the Veterans Memorial in the Carefree Desert Gardens to pay your respects to all those veterans who have served.

For more information, visit https://carefree.org or call 480-488-3686.