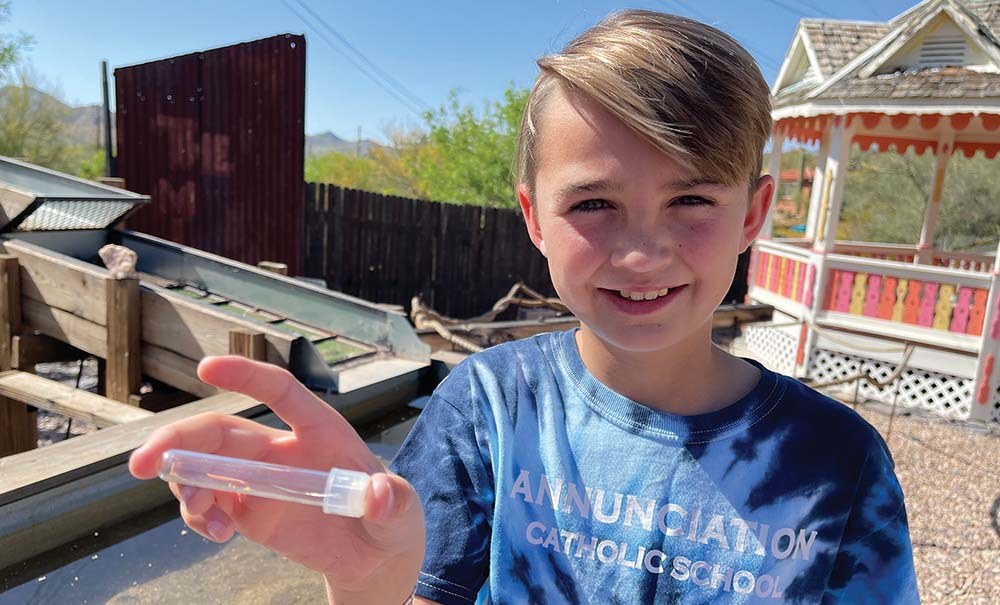 The Arizona Gold Mining Experience at Cave Creek Museum delivered real gold to Case Wallace, a nine-year-old who was visiting the stamp mill and gold panning station with his Annunciation Catholic School schoolmates in spring.

The fourth graders were at the museum to discover Cave Creek's mining history and to learn how to pan for gold from dream team members. The children sorted through sand, pyrite (Fool's gold), black sand, magnetite, garnet, quartz, turquoise, obsidian and shark's tooth looking for flakes of gold. Case was the lucky panner who found two during his excursion.

"He had a very good technique," says Erik Anderson, a volunteer who helped the kids.

Gold is the heaviest mineral of them all and can be found in magnetite, a fine black sand. Case pointed out the shiny gold he had found, so two dream team instructors checked the sample with a magnet to verify it was true gold flake (gold will not stick to a magnet). It was real. The museum team gave him a small tube and put the gold inside it so he could take it home. One never knows what they might find during a gold panning experience.

"It just didn't look like Fool's gold to me because it was flat," says Wallace. "The volunteer told us that of the gold was flat, it was most likely real. I ran over to him and he grabbed a magnet to check the gold I found and concluded is was the real thing," says Wallace. "I kept panning and found a second gold flake. It was really cool, fun and I liked the experience a lot."

Wallace had been studying Arizona history before the trip.