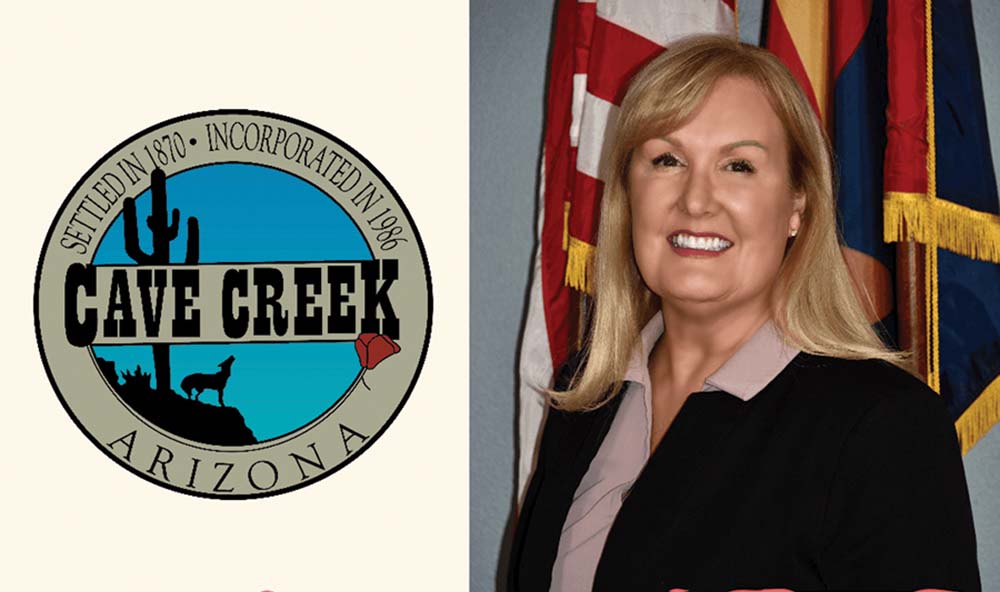 After more than 35 years of government service, the past 25 years with the Town of Cave Creek, Town Manager Carrie Dyrek has announced her retirement. Prior to being hired as Town Manager in 2017, Dyrek served as the Town Clerk for the first 19 years of her Cave Creek career.

"Since her appointment as Town Manager, Carrie Dyrek has brought stability and leadership with integrity and professionalism to Cave Creek government," said Mayor Robert Morris. "She has assembled an incredible team who navigated the COVID-19 global pandemic while continuing to provide essential Town services. Under Carrie's leadership, Cave Creek has made tremendous strides in our water and wastewater utilities systems and brought critical financial power to the Town. Cave Creek is now a safer community due to our newly created Cave Creek Fire Department staffed by Daisy Mountain Fire and Medical District and is a member of the Regional Automatic Aid Dispatch and Response System. With increased sales tax revenues primarily attributable to development of the Carefree Highway Corridor, the Town is financially stable and continues to receive the Annual Comprehensive Financial Report Award and Distinguished Budget Presentation Award from the Government Finance Officers Association."

Additionally, Dyrek and her team negotiated with the City of Phoenix to develop an Intergovernmental Agreement (IGA) to build a water interconnection between Cave Creek and Phoenix allowing Phoenix to treat and deliver a portion of the Town's CAP water allocation. This interconnection brings reliability and redundancy to our Cave Creek water utility system. The terms of the IGA also resolved a long-standing dispute with the City of Phoenix allowing the commercial property along the southwest corner of N. Cave Creek Road and Carefree Highway to develop and brought the Abrazo Hospital to Cave Creek. The Sprouts shopping center development added new sales tax revenues to Cave Creek, allowing the Town to negotiate a contract with Daisy Mountain Fire and Medical to provide fire and emergency services to the Town with no new taxes.

"Carrie has done an outstanding job leading our town for the past six years while I've been on Council," said Vice Mayor Kathryn Royer. "When the two wildland fires hit the Town of Cave Creek in 2020, just ten days apart, Carrie and her team worked tirelessly on coordination with fire and emergency service professionals to communicate emergency evacuation notifications and other vital information to the community. These incidences illustrated the need for the Town to evaluate and address emergency services which resulted in our new fire department."

"It has been my greatest pleasure, personally and professionally to serve the Town of Cave Creek as your Town Clerk and Town Manager for more than 25 years," said Dyrek. "I have worked with four Mayors and many Council Members who have entrusted me in my leadership roles. Together we have tackled difficult matters and succeeded in adding valuable services for the community. These efforts have increased public safety making Cave Creek an even more desirable place to work, live and allow our businesses to grow and thrive. I have been incredibly fortunate to build a team of dedicated professionals who provide quality governmental services to all who work or reside in Cave Creek."

Dyrek chose to announce her retirement now to allow time for a smooth transition of leadership. Dyrek's last day with the Town of Cave Creek will be set for some time in early 2024. The Town Council will work with an executive recruiting firm to select the next Cave Creek Town Manager.