CAVE CREEK – The nonprofit Sonoran Arts League announced today that Arizona's largest and longest-running artist studio tour, Hidden in the Hills (HITH), will take place during the last two weekends of November: Friday, Saturday and Sunday, November 17, 18 & 19 and November 24, 25 & 26. This year's free, self-guided tour features 164 artists at 41 studios throughout the scenic Desert Foothills communities of Cave Creek, Carefree and North Scottsdale.

The League also announced that ceramic artist Sharon Albrektsen's fanciful sculpture, "Bee Free," will grace the cover of this year's popular four-color, glossy artist directory. The surreal piece depicts a fairytale-like woman setting a bee free. 
Last month, participating artists were invited to submit original pieces for consideration of the artist directory cover during a selection process. 

"We really loved the playfulness of Sharon's 'Bee Free' piece," said Gail Haire, a highly acclaimed oil painter who serves as the event's co-chair. "It's an uplifting, imaginative piece that really resonated with us. This is Sharon's first year participating in Hidden in the Hills, and we're excited for guests to see her creative work!"
 
A Narrative Artist Who Loves Clay
 
Sharon Albrektsen grew up in an artistic family who encouraged her to explore her imagination. Being dyslexic, she struggled to read, but she thrived in her art classes. She loved working with clay so much, she earned the nickname "Muddpuppy" from her family.

Throughout her career, she has always created art. She earned her BA and MA from Adams State College in Colorado, and MFA at Fort Hays State University in Kansas. She owned and operated a coffee house, and she also taught art in grades from kindergarten through college.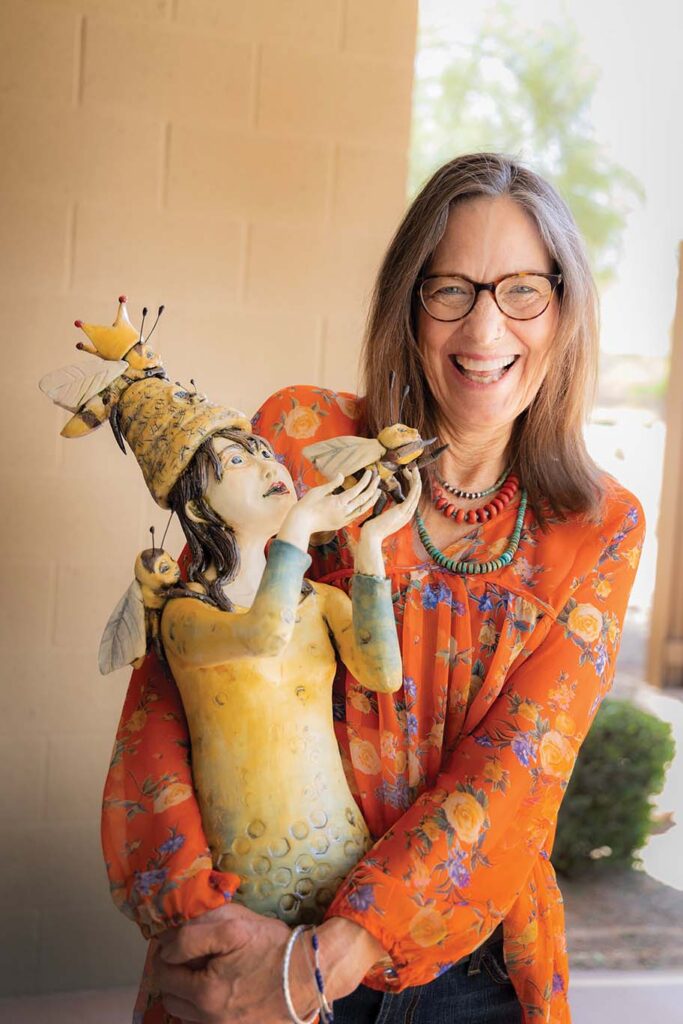 "I am a narrative artist who is in love with clay," Albrektsen said. "Clay gives me the placidity to capture my thoughts when it is wet and permanency of the form when fired. My work is layered with meanings of who I am now and who I was."

Using borrowed symbols from the Christian religion, other cultures visited in her travels, and those from history, she combines all to make her own personal symbolism. 

"Previously, I made a vague reference to the figure in my imagery. Lately, the figure has become of grave importance to the story-telling nature of my work," she said.

She often finds inspiration from her favorite two-dimensional artists, including Salvador Dali, Hieronymus Bosch and Remedios Varo.

"I see their work in my mind as 3D," she said. "There's also a bit of Dr. Seuss in my work, and I am also inspired by James Cameron and Tim Burton."

She started her bee series when she was working towards her MFA degree.

"I was amazed that bees can fly with such big bodies and small wings," she said. "But I was also affected by messages that said, 'bee kind,' 'bee grateful,' and 'bee blessed,' and I thought, 'What would it look like to bee free?'"

Humble about being chosen as this year's HITH featured cover artist, she said she's still trying to process it.

"I am beyond grateful," she said. "There were so many incredible entries from some of my favorite artists, and I'm truly honored. I'm still floating a bit."

Albrektsen will exhibit and sell her work at glass artist Sandy Pendleton's Studio #22 in Cave Creek. This year's HITH artist directory also will feature three diverse artworks on the directory's back cover. Those artists include jeweler Kelly Charveaux, glass artist Jacki Cohen and abstract painter Carol McDonald.

For more details, visit www.HiddenInTheHills.org.