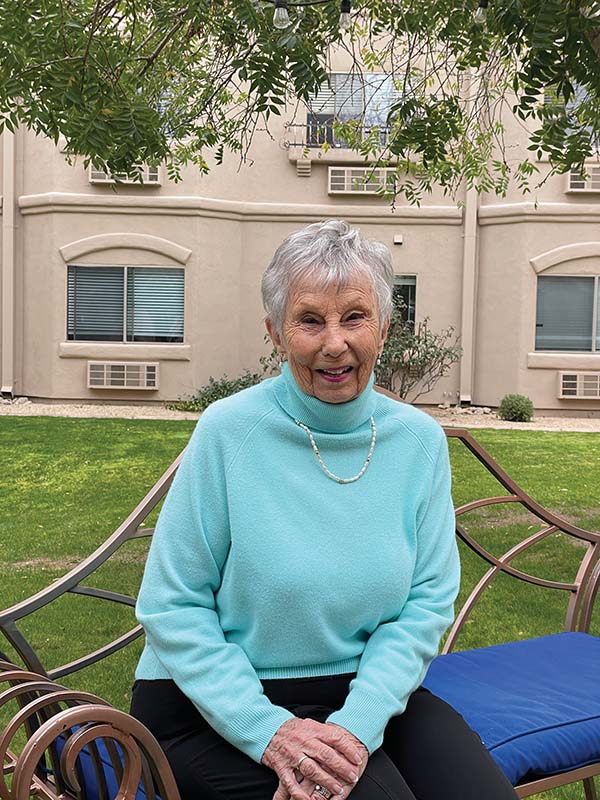 Marielle D. Marne
CAREFREE – For the last two years, Bobbie Morgan has been enjoying life at the Heritage at Carefree. She and her husband Ed, the former mayor of Carefree, moved into the retirement home when Ed became ill and needed more care.
"We knew [owner] Donna [Holbura] and the facility. And of course, Wings of Hope Hospice. It's been a wonderful experience. I'm happy here. I have lots and lots of friends."

Bobbie is able to live independently, but she appreciates having help available when needed, and she shared that her daughter is fifteen minutes down the road, so sometimes she spends the night. She likes the freedom the Heritage offers but also the social network she's established there. "We all want love, attention and conversation," she opined.

Because the Heritage is a smaller facility, Bobbie has had the opportunity to get to know everyone. The owners and staff welcome input from residents, and Bobbie said she's even passed on a recipe to the cooks. "Donna and the staff really listen to what people have to say. They are really great people."

The Heritage at Carefree is quite popular with residents of Carefree, Cave Creek and Scottsdale. "I believe it's full here or close to it," Bobbie offered. "You can tour here anytime. They are more than willing to open their doors to anyone interested in moving in."

She can't say enough positive about the residents and staff, and added one of her friends has a little dog, Rusty, on the property. Though he's not allowed in the dining room, Rusty joins in on the activities and Bobbie commented how sweet it is so many want to sit by the pooch. He lifts spirits, especially when he has on one of his tiny coats!
While Bobbie loves to cook, she sings the praises of the cooks. "Great quality. Shamrock Farms comes every week. The food is really good."

To anyone seeking retirement living, whether independent, assisted living, memory care or skilled nursing and hospice care, Bobbie concluded, "This is such a special place to me and the fact this it's smaller is really an advantage. It's easier to adjust and to get to know everyone."

Learn more at heritagecarefree.com or call 480-488-1622. Heritage at Carefree Retirement Living is located at 36590 N Pima Rd. #3481.