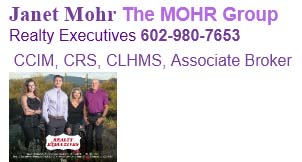 Janet Mohr, CCIM, CLHMS,
Associate Broker,
Realty Executives, The MOHR Group
Just looking at the 85331 and 85377 zip codes, the closed sales from the period of 1/1/2023 to 2/14/2023 were 49.  Taking the same period in 2022, the closed sales were 77.  In comparing the averages, in 2022 during this time period, the average list price in these two zip codes was $1,068,044 with an average selling price of $1,075,508.    This is 1.01 percent of the asking price.  The period between 1/1/2023 and 2/14/2023 has an average list price of $960,298 with an average sales price of $931,575 which is .97 percent of the asking price.  Clearly, we are in a much healthier market today!