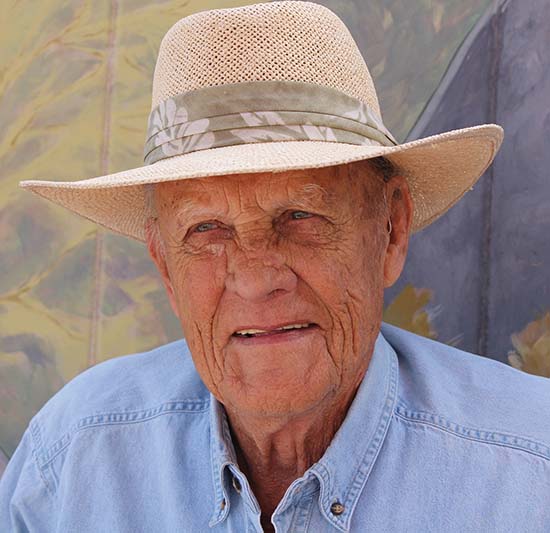 Paul Schoonover, long time Cave Creek resident, left this world for his next great adventure on January 28.

He was 97 years young. Paul was born in Haines City, Fla,and grew up in the South. He joined the Army Air Corp. during WW II, and later served in the Arizona Air Guard. He was stationed at Luke Air Force Base by the Army and there he met his life long love, Grace Stokes. Paul and Grace were married in 1946 and made their home in Arizona.

Together, they established two successful Air Conditioning companies, and helped to build many of the original businesses and homes in the Carefree Area.

In 1951, they built a one room cabin in Cholla Bay, Puerto Penasco, Son. Mex. Over the years this grew into a comfortable home to accommodate the entire family. Paul was a charter member of the Cholla Bay Sportsmen Club, and during the years he was active,the club provided polio shots for the children of Puerto Penasco, established a search and rescue procedure for boats missing or in distress and established a radio communication system between boatmen and the shore.

Paul was happiest in his ocean hideaway in his later years. An avid boater, Paul was active with the UnitedStates Power Squadron, teaching safe boating and navigational classes and enjoying boating adventures with other enthusiasts.
Paul and Grace both were accomplished celestial navigators. Grace and Paul shared a keen interest in the Archaeology of the Cave Creek area, all of Arizona and elsewhere in the Southwest.

He was a member of the Desert Foothills Archaeology Society. He also supported the Cave Creek Museum. Paul was a member of the Carefree Kiwanis.

Grace preceded him in death.

Now he is survived by his sisters, Clarissa Getsinger and Patricia Chamblee, both of Anderson, S.C., his daughters, Ann Rice and Paula Scully, both of Cave Creek. Grandchildren Brady Dalton, Genevieve Dalton, Abby Rice and Michael Rice and Great Grandchildren, Stephen Steffen, Kody and Jilliann Young.

He lived his life to the fullest and enjoyed many great adventures, we'll miss him, but he gave us all a model to build upon.