WIEGAND, Lawrence – On Sunday, January 15, 2023 passed on to be with his heavenly father. Larry (Watts) was (the youngest of 8 children) born on January 22nd, 1930, in Centerline, Michigan at their home on Engleman and Van Dyke, across the street from their St. Clements Catholic church and school. His parents were Joseph Wiegand and wife Clara (Kott). He was preceded in death by his siblings Antoinette (Toni), Dolores, Mary Jane, Phyllis, Joan, Joseph (Pete), and Roland. He is survived by June, his loving wife of 46 years, and 3 children and their spouses, Mark (Julie), Teri (James) and Rae Ann (Gordon). He was also a very supportive Grandfather of six: Aaron, Jessica, Carter, Connor, Amanda and Marisa. Great-Grandfather of three: Henry, Eleanor and Jackson.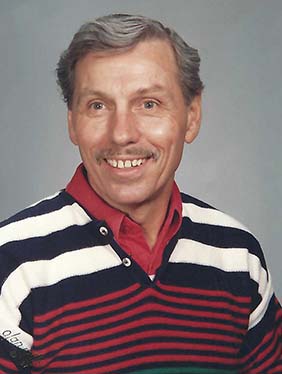 Larry owned and operated Redall Industries in Yale, MI. until his retirement in 1992. He was an excellent bowler, avid golfer and seasonal hunter. He and June have lived most of their last 31 years in Cave Creek, AZ. and golf members at Rancho Manana. He was an active parishioner at Our Lady of Joy Catholic Church and a very charitable man, contributing both his time and resources. He volunteered much of his spare time to the St. Vincent de Paul Society.

A Mass, followed by a Celebration of Life luncheon will be held at Our Lady of Joy at 36811 N. Pima Rd. Carefree, AZ. 85377, on Friday, March 10th, 2023, at 11 AM. In lieu of flowers, please donate to St. Vincent de Paul at Our Lady of Joy, an organization close to Larry's heart.