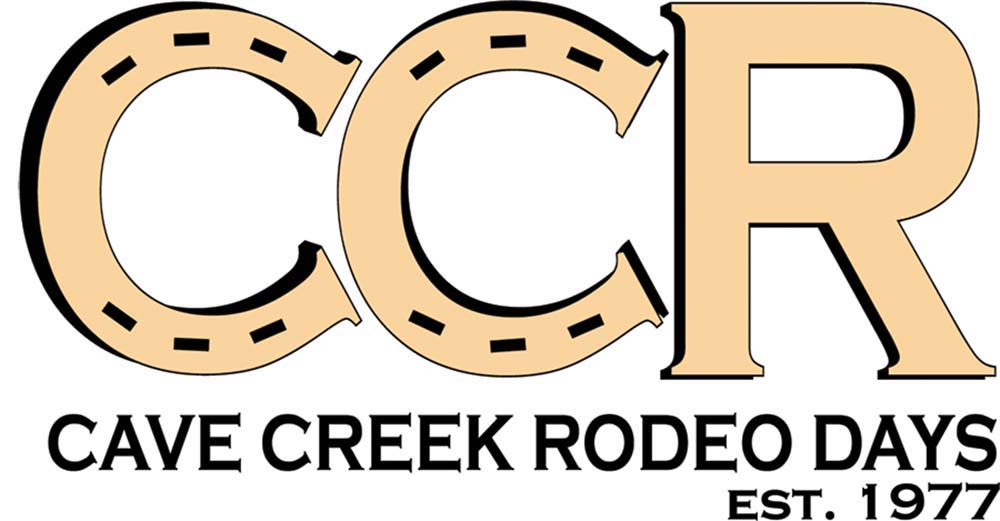 Stock contractor Cervi Championship Rodeo's world champion bucking stock returns to Cave Creek for the annual event.
Mark your calendar to attend one of the Valley's biggest events, Cave Creek Rodeo Days, set for Thursday, Friday, Saturday and Sunday, March 23, 24, 25, and 26, 2023 in Cave Creek!

Now in its 46th year with Sanderson Ford as the title sponsor, the event will take place at Cave Creek Memorial Arena with three thrilling PRCA rodeo performances featuring top-ranking Professional Rodeo Cowboy Association (PRCA) and Women's Professional Rodeo Association (WPRA) contestants.

This year's event kicks off on Saturday, February 11, for Cave Creek Rodeo Days Royalty Competition & Pageant and the
Cave Creek Rodeo Days Parade will be Saturday, March 18 at 9:00 am in downtown Cave Creek.
Saturday, March 18 at 1:00 will be Mutton Bustin at the Cave Creek Memorial Arena for kids ages (4 – 7). RIDERS ARE
LIMITED TO 70 — so Mutton Busters sign up in advance on the website www.cavecreekrodeo.com\mutton-bustin\ to ensure your spot, $25.00 per rider in advance. The evening will end with the Official Rodeo Kick-off Dance at The Buffalo Chip Saloon in Cave Creek.

Wednesday, March 22, 4:00 pm – 6:00 pm, Mountain View Pub will be hosting the 2nd Annual Crazy Horse Memorial Fundraising Event. The event is to raise awareness and assist in the completion of the world's largest sculpture, Crazy Horse Memorial located in the Black Hills of South Dakota.

Newly added this year is All Bulls, All Night, Thursday, March 23 at 7:30 pm.
This night is all about showcasing the Professional Rodeo Cowboy's bull riders and bull fighters that bring our fans to their feet.

Eight seconds is all it takes to get on the scoreboard but it's not as easy as it sounds. The score is determined by the PRCA judges who evaluate each rider and the bull for a score of up to 50 points, with a maximum of 100. At the end of the rodeo season, the top bull riders move on to compete for the XTREME BULLS tour championship.

Ticket prices for All Bulls, All Night is $45.00 general admission, $150.00 Stockman's Club, and $200 Chute 6.

Thursday, March 23, 7:30 pm is the PRCA first performance at Cave Creek Memorial Arena.

Friday, March 24, 7:30 is the PRCA rodeo performance are Wranglers "Tough Enough to Wear Pink" cause that began in 2004 in support of the fight against breast cancer. Saturday night is local charities night. Cave Creek Rodeo Days selects a deserving local charity that has applied with Cave Creek Rodeo Days for a donation and Sunday is Wrangler National Patriot Day program, founded in 2009, helps raise funds to support American military veterans and their families.

To purchase tickets, go to www.cavecreekrodeo .com and click the ticket button. Purchase your tickets on-line through our new ticket agency RODEOTICKET.com. You can save the QR code to your phone or print it and bring it with like a paper ticket. Rodeo tickets pricing is $30 for General Admission with all persons 5 years and older needing a ticket for entry.

For those that want the ultimate experience enjoyed by our sponsors in the Stockman's Club. Limited Tickets are available for $150 per person which includes a full dinner, drinks (hosted bar) and exclusive seating on the arena for an up-close rodeo experience. For a little more exclusivity, purchase a seat on Chute 6. BUY YOUR VIP EARLY as these clubs ALWAY SELLS OUT!

LOCATION: Cave Creek Memorial Arena is located at 37201 N. 28th Street, near the cross streets of 24th Street and Carefree Highway.
Rodeo parking has been expanded by 2 acres with passenger shuttles running in the parking lots. So, head out and join the fun.