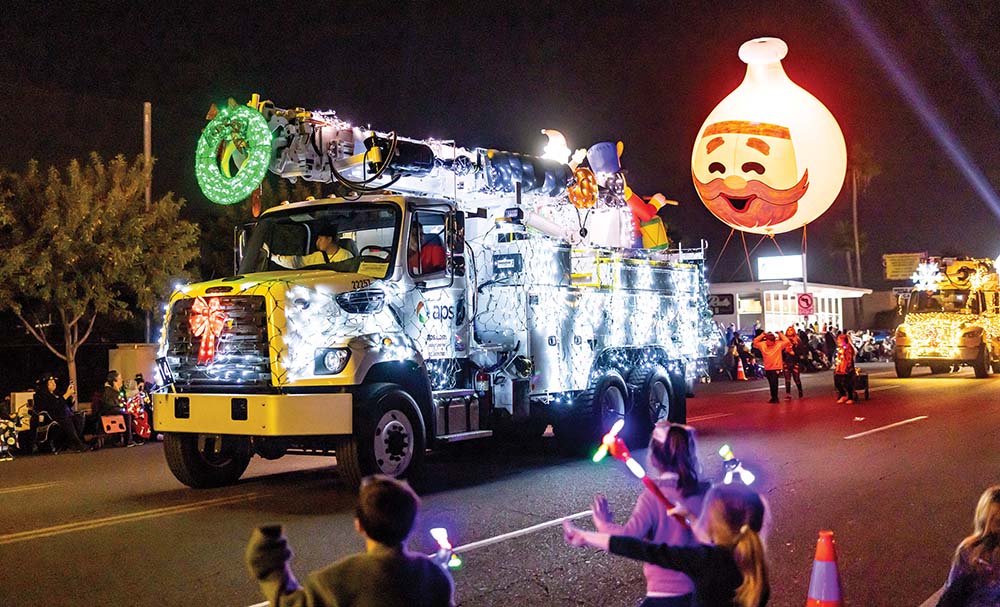 The Holidays come alive with Western Holidays at Stagecoach Village December 9 – 11. Western Holidays will be offering the community a family friendly Holiday Celebration. Complimentary admission is made possible by our title sponsors Sanderson Ford and Sanderson Lincoln's Operation Santa Claus with a donation. The Yuletide Artisan Market will feature local artists, handcrafted holiday wares and other items perfect for the gift – giving season. Children's activities will include The Bubble Truck with a Billion Blowing Bubbles, small bounce house, face painting, ornament making and many other activities. Cactus Shadows students' choir and band will be performing. And yes, Mr. & Mrs. Santa Claus will be on hand for pictures and story -telling.

Cowbells Crazy Christmas Hat Contest will take place Saturday afternoon from 4:30 – 6:30 with the winner announced at 7 pm.

Also, Saturday night will be the Holiday Balloon "Glow" starting around 5 pm. Balloons inflate and light themselves from within. The sight of hot air balloons lit up like giant light bulbs is breathtaking. Pilots will coordinate 'all burns' where they fire up their burners illuminating their balloons all at once and perform 'count downs' which are very crowd participatory events. A Glow is a MUST SEE at our festival! To finish out the night the Crown Kings will be playing 5 pm – 9 pm.

"Adults will not want to miss the beer and wine garden. Sunday the great 2022 Chili Cookoff will be cookin! Come and be a part of it and there is no cap on entries."

The Stagecoach Village Christmas Lighted Tractor Parade will take place Friday & Saturday night.
FRIDAY, DECEMBER 9 —— 10 am – 9 pm
• 10 am – 5 pm -Vendors/food booths
• 10 am – 5 pm – Beer and Wine Garden
• 5:30 pm -Daisy Mountain Fire Truck will bring in Mr. & Mrs. Santa Claus
• 6:00 pm – Lighting of Christmas Tree/Mayor Bob Morris
• Stagecoach Village Lighted Christmas Tractor Parade
SATURDAY, DECEMBER 10 —-1Oam – 9pm
• 10 am – 5 pm – Vendor/food booth
• 10 am – 9 pm – Beer and Wine Garden
• Live entertainment – Cactus Shadows Students Choir and Band
• 1 pm – 3 pm –The Bubble Truck with a Billion Bubbles
• Riding emoji bounce balls, small bounce house, small bouncing unicorn & rhino
• Mini horses
• Cowbells Crazy Christmas Hat Contest – 4:30 pm – 6:30 pm
• 5 pm – 9 pm –Crown Kings
• 5:30 pm – Holiday Balloon Glow (should last about 2 hours) three balloons will light up.
*PLEASE NOTE: Balloon Glow times are always dependent upon weather conditions
• Stagecoach Village Lighted Christmas Tractor Parade
SUNDAY, DECEMBER 11 —10 am – 4 pm (booths stay open until 4 pm)
• 10 am – 4 pm -Vendor/Food Booths
• 10 am – 4 pm Beer and Wine Garden
• 10 am – 2 pm – 2022 Western Holidays Chili Cookoff