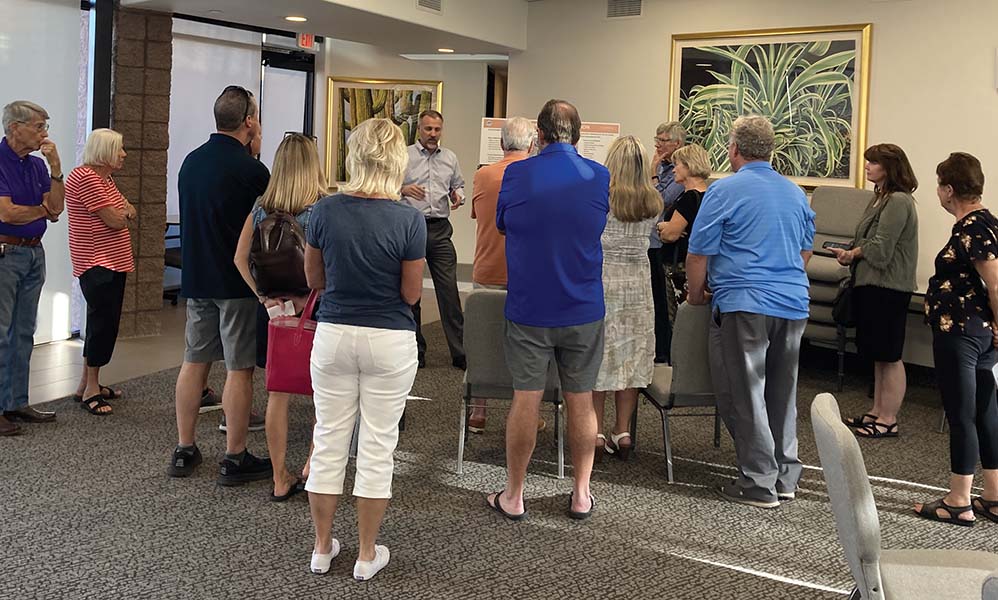 The Town of Carefree hosted an open house to invite discussion about Town Center Revitalization. Citizens had the opportunity to engage with Town staff, ask questions, and learn about the revitalization process.

The open format featured three stations for residents to engage with. Economic Development Director, Steve Prokopek, discussed the revitalization process and presented ideas for residents to consider. Planning Director/Zoning Administrator, Stacey Bridge-Denzak, provided details on considerations for pedestrian and vehicular circulation along with parking in Town. Communications Director, Erica Shumaker, demonstrated the signage package designed by Kimley Horn intended to help direct travelers to Carefree destinations.

Approximately 70 residents came to the open house and provided valuable feedback on the vision and amenities they would like to see in Carefree. Those unable to attend may still contribute their ideas in an online survey: (click here)
In the next step of the process, the Planning and Zoning Commission and Town Council will each review the final draft of the Comprehensive Sign Plan at the upcoming October Planning and Zoning and Town Council meetings respectively with the goal of fine-tuning the document before it goes through the approvals process in November and December.

Follow along with the revitalization process on our website: carefree.org/redevelopment-plan-process

Town to host 14th Annual Veterans Day celebration
The Town of Carefree is privileged to host its 14th annual Veterans Day celebration to honor our veterans on Friday, Nov. 11, from 3-5 p.m., in the Carefree Desert Gardens, 101 Easy St., at the Sanderson Lincoln Pavilion stage.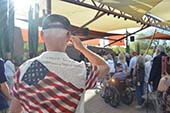 Speakers will include fighter pilot Captain Larry Ernst, US Navy, retired, a veteran of more than 100 Vietnam combat missions and former Top Gun instructor, and Captain of the USS Midway, CV-41, and Gold Star Mom Ms. Tammy Pulaski, Mom of Spc. Jeremiah Pulaski, Department of Arizona American Gold Star Mothers, President. This year's event will also feature a mixture of patriotic and military music by Todd Knowles and the Main Event Swing Band as well as "The Last Post" on the bugle, followed by "Taps" performed on dueling bugles.

Veterans Heritage Project (VHP) will be in attendance with VHP chapter students from Cactus Shadows High School and Sonoran Trails Middle School. They will display a student built veteran exhibit. VHP student veteran interviews compiled in books entitled, "Since You Asked: Veterans Share Their Memories", will be for sale.

Before or after the program, take a moment at the Veterans Memorial in the Carefree Desert Gardens to pay your respects to all those veterans who have served.

For more information, visit https://carefree.org or call 480-488-3686.