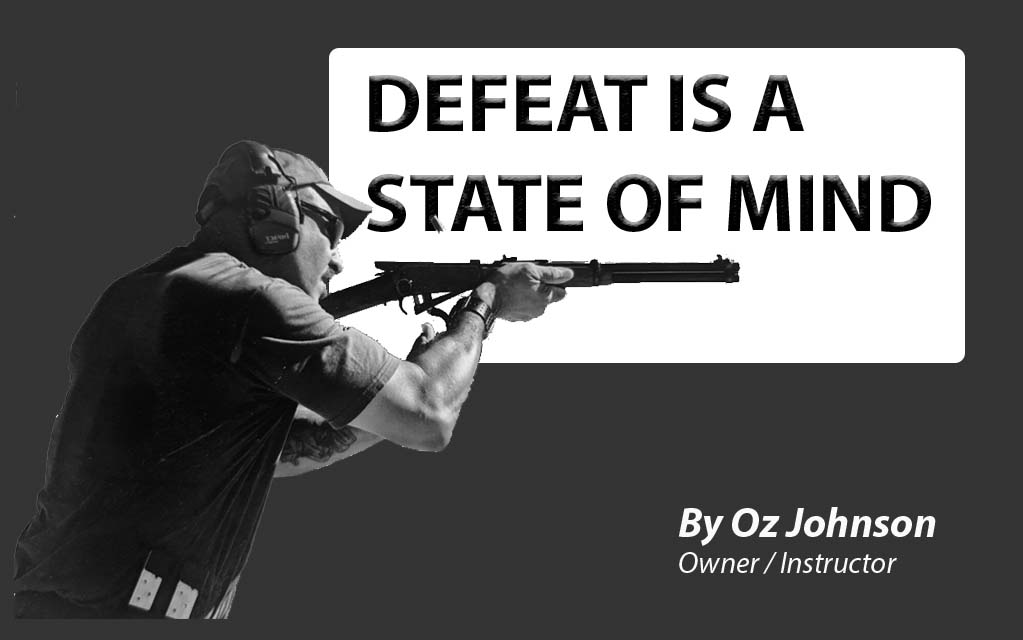 Throughout my career in the military and law enforcement I was fortunate enough to have access to various training. I had opportunities to attend training in several different aspects of survival, firearms, and combat tactics. I was thrilled that these opportunities presented themselves, but I had to choose wisely because there wasn't enough time to attend them all. When I was in the 101st Airborne Division I served as an Infantry Soldier, learning and training to be the best warrior I could be. I loved the comradery within my squad, and platoon, and knew that the other soldiers, including myself, would sacrifice our lives for one another. That mentality was always put to the test.

Today, when I look back to those days, I know that the mentality of doing anything for the life of my comrades had a big flaw in it. You see after the Army I went into the Air Force as a combat medic, Air Evacuation Technician to be exact. At that time, I realized that while in the Army I really couldn't do everything possible for my squad or platoon member. I could fight and die for them but if they were injured the best I could do was yell as loud as I could, "MEDIC!"

While enlisted in the Air Force I realized that being the best warrior also included being able to save a life. How can I fight a good fight if I can't help in any possible way in keeping those fighting with me alive? I served in the Army from 1983-1987 and in the Air Force from 1987-1993. Prior to the military recognizing the importance of training all miliary personnel with some sort of medical training.

In October of 1993, elite American troops launched a disastrous raid in the Somali capital Mogadishu. Their aim was to capture key allies of the powerful Somali warlord, Gen Mohamed Farah Aideed. You might be familiar with this raid if you've seen the movie "Blackhawk Down." The raid lasted roughly 17 hours and left 18 U.S. Soldiers dead and approximately 84 wounded.

In 1993 and following the Mogadishu raid the military found that if soldiers had the basic knowledge of Combat Casualty Care and if they could perform it in a Tactical manner, that many lives could have been saved on the battlefield, in Mogadishu. TCCC, Tactical Combat Casualty Care was introduced in 1993 and first implemented by Naval Special Warfare Command and then used by all military in 1996.

The purpose of this military history lesson is to inform you that the military came to realize that winning a battle is just as important as saving every soldier involved in that battle. They also learned that doing this would not mean certifying every military member as a E.M.T. or Paramedic. They needed to offer enough training so soldiers could treat life threatening injuries just enough to keep the patient alive until the medical professionals arrived, with a curriculum that could be learned by anyone.

Some of you might have experienced a traumatic event where persons were seriously injured. If you had no medical training, what was your reaction? Dial 911, comfort the injured, direct traffic? What if you knew how to perform trauma assessment (TRIAGE), control massive bleeding, manage airways, prevent the victim from going into shock or even apply a much-needed tourniquet? Whose life could you save? A stranger, a loved one, or possibly your own?
TCCC was implemented to give the soldier with no medical training the evidenced based, life-saving techniques and strategies for providing the best lifesaving trauma care. Even with my medical background I realize that I need to continue this training as much as I go to the range and shoot or train tactics. My medical gear is just as important as my firearms.

I am also very excited about adding a new instructor to my firearms instruction business. A 30-year Navy Combat Veteran who served in Special Operations and who has instructed Tactical Combat Casualty Care. With this addition I can offer a total package to students who want to be prepared for whatever they might come across. We have scheduled 2 classes on October 8th that will teach you a lot of these disciplines.

Everything that I strive to do with my business centers around helping responsible law-abiding gun owners protect themselves and the ones they love. Our new training course "Critical Casualty Care" will now become a regular training event offered to our students. Stay Safe, and Never Stop Training!
For any questions regarding my article, please email me at
[email protected]
Oz Johnson/Lead Instructor, NRA Certified
JohnsonGroupTAC.com
602-410-7355