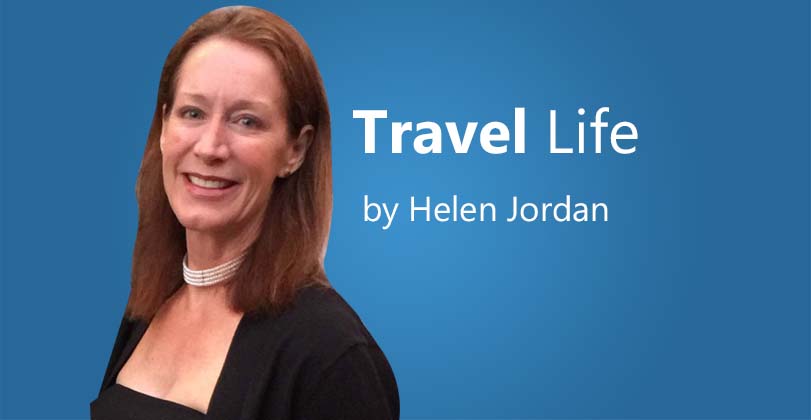 Most people have heard of Viking River Cruises. Viking may be the perfect cruise line for your interests, yet on the other hand, there are six more terrific lines out there that may be more in tune with what you are looking for in a river cruise. I've done the research to give you what you need to plan your cruise adventure.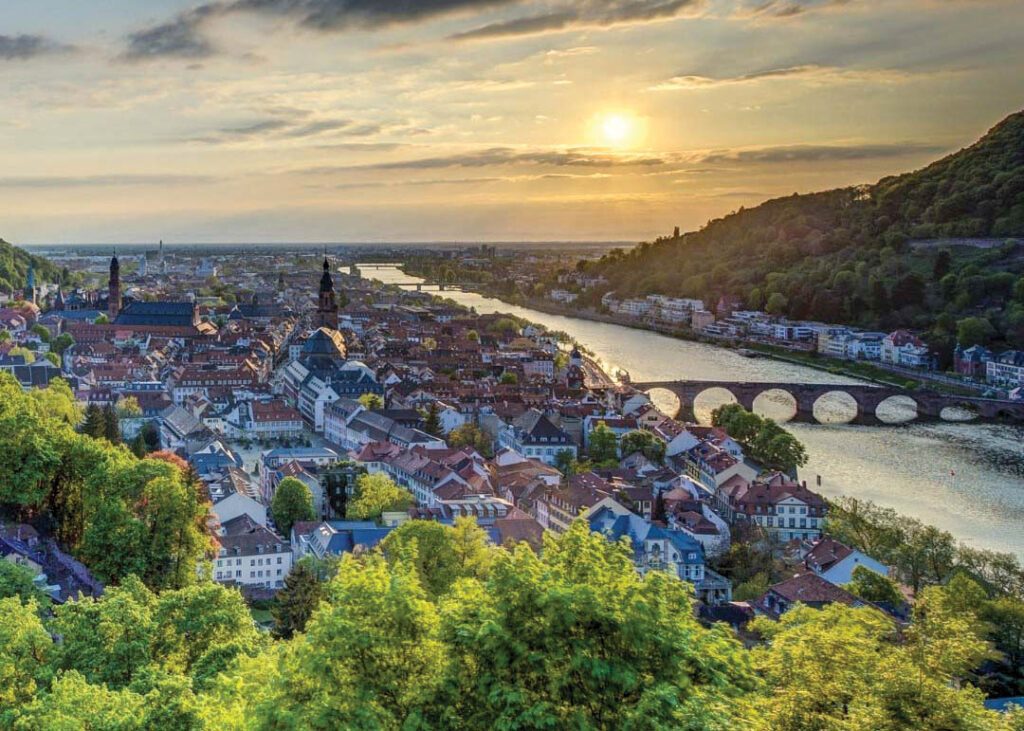 Know Before You Go
Every river cruise line has its own special features. Some have traditional décor and some more modern, some focus on experiences off the ship, others pride themselves on their cuisine, and others focus on luxury and service. While I don't have enough room in the article to go into detail, the River Cruise Pricing Chart in this article sums it up quickly.
Many cruise lines offer special themed sailings. Tauck offers family sailings during typical school breaks in the summer and around the holidays. Viking has a minimum age requirement of 18 years and older so it appeals to mature travelers. AmaWaterways offers a concierge golf program (additional cost) so that you can play at four to five courses during your trip. They also offer Disney Adventure cruises that appeal to families; however, don't expect Disney characters on the ship. Uniworld offers connoisseur collection sailings focused on wine. Most offer Christmas Market cruises and Oberammergau "The Passion Play" for summer of 2020.
Inclusions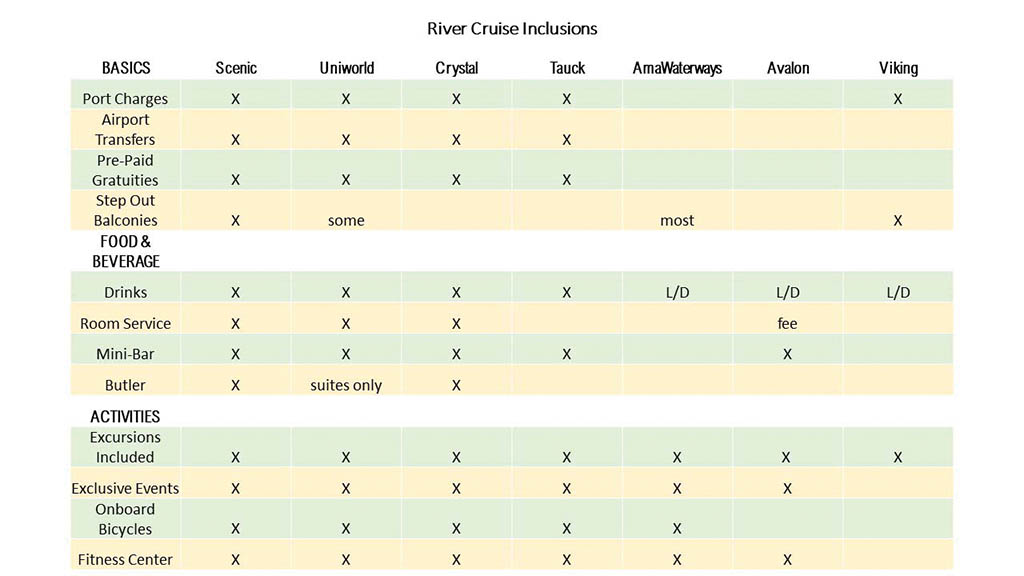 The chart gives you an overview of what's included, generally speaking. Cruise lines may offer additional inclusions during promotions and sales.
Pricing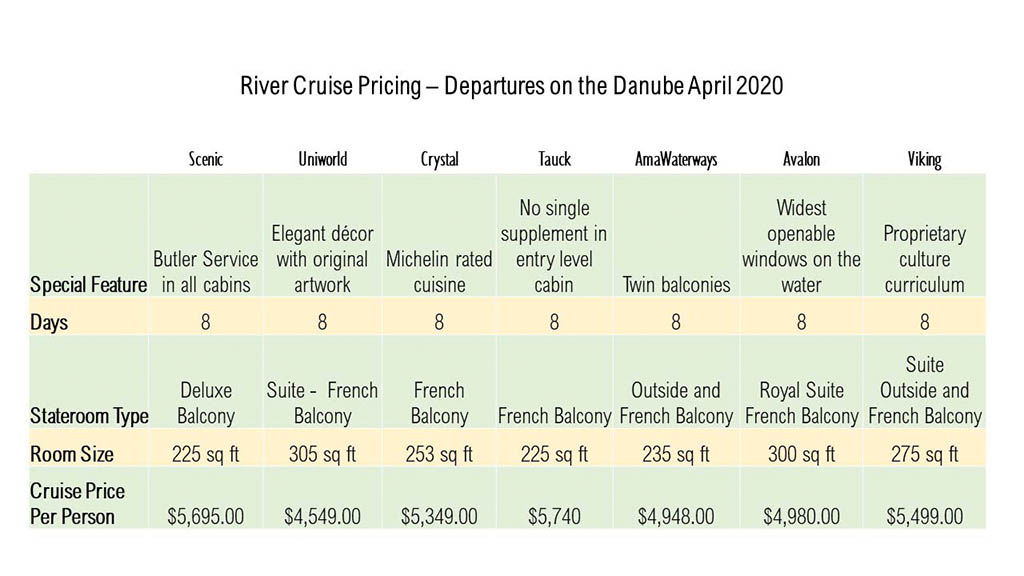 Sticker shock is not unusual with travelers new to river cruising. If you've seen specials on ocean cruises that are closer to $1500 for a week, river cruise pricing can seem expensive.
The differences? River ships carry fewer passengers than ocean liners, there are no inside cabins, shore excursions are included (as well as beverages, gratuities, airport transfers, etc. in many cases), there are no long lines to get on and off the ship, they serve fresh locally sourced food, and you'll have a more engaging experience with other passengers and crew.
The chart shows sample pricing for 8-day cruises on the Danube in April of 2020. I chose a minimum 225 square foot cabin with minimum of a French balcony. (some lines have outdoor balconies) The Uniworld pricing is due to a sales promotion that they are offering on several of their departures. Pricing is always subject to change by the cruise lines and for dates of travel.
While I did not outline Virtuoso amenities, on certain departures there are added amenities that may include shipboard credits and exclusive events for Virtuoso clients. To take advantage, you will need to book with a Virtuoso member travel advisor.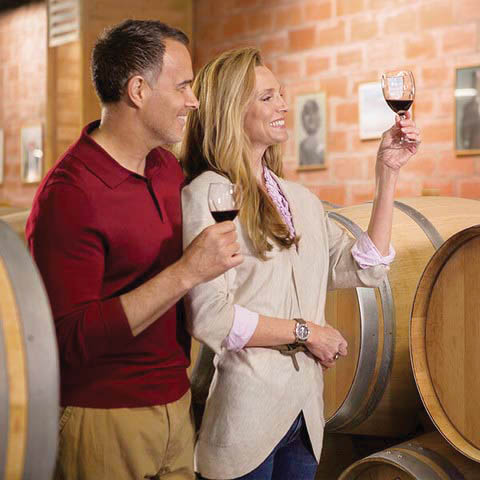 Wave Season
Wave Season is just around the corner – this is when cruise lines offer promotions and special pricing. Do your research now so that you'll be ready to take advantage of great deals on a river cruise!
Helen Jordan is the owner of Jordan Luxury Travel, an independent affiliate of Brownell Travel, a member of Virtuoso. She can be reached at [email protected].