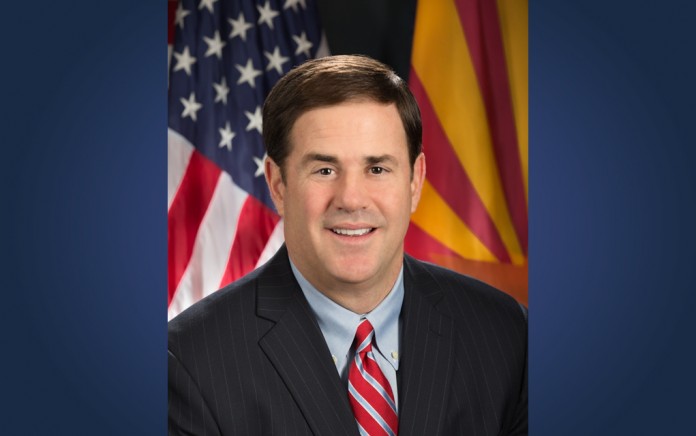 State shares simple steps to strengthen communities' emergency preparedness
PHOENIX — It's not uncommon to see a natural disaster in another part of the country and think that will never happen here. But Arizona's wildfires and monsoon storms are reminders that emergencies can occur anytime, anywhere.
This September the Arizona Department of Emergency and Military Affairs (DEMA) shares this timely preparedness message with communities statewide: "Disasters happen. Prepare now. Learn how."
DEMA's push to encourage community members to act now is part of a state-led effort to support Arizona residents as they plan for the unexpected. Following September's Arizona Preparedness Month proclamation, Gov. Doug Ducey and DEMA encourage the Whole Community– individuals, families and businesses– to mitigate against and prepare for potential emergencies. 
"Planning for disasters can keep Arizonans and their loved ones safe," said Gov. Ducey. "Arizona Preparedness Month is a time to reflect, prepare and lay out plans that keep our communities resilient."  
Although Arizona is popularly known for its temperate climate, several weather hazards can cause unpredictable emergencies for families. Most commonly known, monsoon season's flash flooding threat poses serious risks to communities. In the past five years, every Arizona county has experienced destructive flooding events.
"It's not a matter of if an emergency will happen, but when," said DEMA Deputy Director Wendy Smith-Reeve. "Investing the time to prepare now makes a difference."
During Arizona Preparedness Month, communities are encouraged to take the following preparedness steps: 
· Plan – Make a Family Communication Plan that includes an out-of-town contact and evacuation route. 
· Prepare – Build an emergency go kit with enough food, water and daily medication(s) to last at least 3 days. Create a smaller, travel-sized kit that you can take in the event of an evacuation. 
· Inquire – Be informed of local hazards and emergency plans at your work and your children's school. Contact your local emergency management office to sign up to receive emergency notifications. 
· Inspire – Motivate others with your positive preparedness example. 
Follow the Arizona Emergency Information Network's Facebook and Twitter pages for easy and cost-effective preparedness tips for families.
Residents are also invited to get creative in the kitchen for the Emergency Kit Cook-Off's chili cook-off challenge. Cooks are asked to create a chili or chili-inspired recipe that uses at least one featured ingredient and only nonperishable pantry and go-kit items. For more information and to submit recipes, visit EmergencyKitCookOff.org.