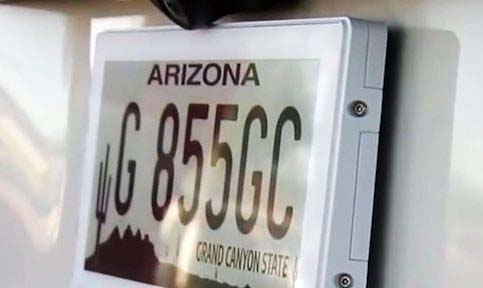 Arizona License plates could be getting a digital makeover. Arizona is one of the chosen states to try out a new license plate technology. If successful, car owners will no longer have to wait for registration due to the digitized license plates.
According to a statement posted by the CEO of Reviver Auto on their website, the license plate was launched by one Henry Ford in 1908, and since then nothing has changed about the plates. The new plate allows drivers to have a convenient automated replacement of renewals which allows valley drivers to save time by not having to wait in line to get a registration sticker.
The RPlate Pros is not a new invention, it has been tested and used in California. The ordinary decal paperwork and stickers will be replaced with Rplate Pros.
Ultimately ADOT feels that this new plate could possibly save $1.8 million a year in labor and postage by eliminating vehicle registration stickers. In addition, the plate would be helpful to law enforcement as they can easily track a stolen car using the plate and even know if your car's registration has expired.
Currently the new plates are only being tested by ADOT. The testing phase is open-ended with no end date. Once the testing phase is finished, ADOT will make a decision whether they want to move Arizona drivers to the use of these plates.