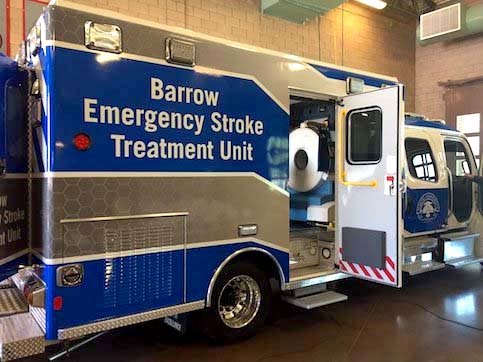 A stroke can be devastating and lead to months, if not years, of treatment and rehabilitation, and many have dedicated their lives to researching solutions to this health crisis. In June 2017, Barrow Neurological Institute and the Phoenix Fire Department announced their partnership, and it is one that will transform the way those in Phoenix will receive medical care after a stroke.
The partnership will decrease deaths and long-term injuries caused by strokes by helping patients be diagnosed and treated quickly.
The program features a mobile emergency room that specializes in treating stroke victims. The Barrow Emergency Stroke Treatment Unit is unique as it is one of ten in the United States, and it is the first to operate 24/7 in a large city. The mobile unit is owned and managed by Barrow.
The mobile unit will be vital for those who experience a stroke. Less than six percent of patients receive adequate care in the recommended time frame, and less than one percent receive it in one hour. The emergency stroke treatment unit can change this statistic.
The mobile unit will be sent with emergency personnel when 911 is called for stroke-like symptoms, and a certified RN and CT technician will always accompany the unit. The unit will use advanced diagnostic resources to determine the type of stroke, and this will allow for quicker treatment. The response time for the unit is 20 minutes, and it will be put into operation in July.
The 1-million dollar unit was paid for by generous donors, and the stroke research, which will be conducted by Dr. Waters and his team, is partially paid for by the Women's Board of Barrow Neurological Foundation.