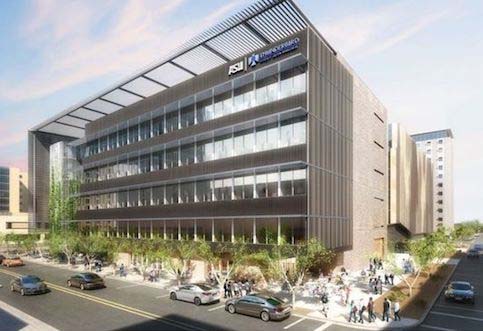 Arizona State University acquired the Thunderbird School of Global Management three years ago. As part of its continued commitment to the success of the international business school, ASU announced the relocation of the iconic school's graduate programs, and the Thunderbird Executive Education program, to a new building on its Downtown Phoenix campus by 2019.
Since it opened in Glendale in 1946, Thunderbird has educated leaders worldwide in international business management. The highly ranked graduate program is currently No. 4 on U.S. News & World Report's list of Best International MBA Programs.
A new building planned to open in early 2021 will accommodate the integration of Thunderbird into the University's campus, which represents a significant investment in the school's continued excellence. Approximately 95,000 square feet of space has been proposed for the intended location between First and Second streets, just north of Polk Street
Moving Thunderbird's 400 international business students and the working professionals enrolled in the Thunderbird Executive Education program closer to downtown Phoenix will expand the University resources available to them. The elite graduate school with specialized masters' degrees and online programs aimed at global leaders will benefit other ASU students by providing international electives and dual-degree opportunities. The undergraduate program with 150 students will remain at the nearby ASU West campus.
The new international business school will join the Walter Cronkite School of Journalism and Mass Communication, the Sandra Day O'Connor College of Law, the College of Nursing and Health Innovation, the College of Health Solutions and the College of Public Service and Community Solutions.
ASU plans to keep one parcel of the Glendale campus near 59th Avenue and Greenway Road to establish a charter school as part of the university's network of ASU Preparatory Academies. The balance of the 140 acres will be redeveloped by ASU's nonprofit revenue generator for mixed residential and commercial properties before being offered for sale. Glendale officials hope that the site provides maximum economic development, jobs, and opportunities for the community.