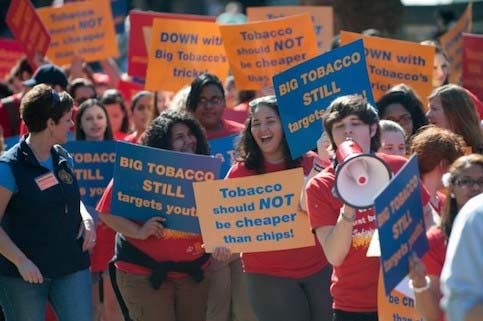 A portion of Arizona's healthcare professionals are railing against the state for its relatively low amount of funding that goes toward anti-tobacco campaigns. In 2017 alone, the state dedicated around $17.8 million to anti-tobacco programs. The study, conducted by the Campaign for Tobacco-Free Kids found that Arizona ranked 16th in the country, for amount of funds dedicated to anti-tobacco programs. The Centers for Disease Control and Prevention recommends that the state of Arizona dedicate at least $64 million toward these efforts.
Tobacco Marketing Costs Far Outweighing Anti-Tobacco Funding
Tobacco companies spend far more money in marketing efforts, than the state spends in anti-tobacco campaigning. The Campaign for Tobacco-Free Kids study found that around $103 million goes toward marketing tobacco annually in the state of Arizona.
Although the state does have uniquely high cigarette taxes, many professionals who have a voice in the healthcare community are urging the state to invest more in anti-tobacco campaigns. President of the CFTFK, Matthew L. Myers, is one of those voices pushing for additional funding. He argues that a failure to fund anti-tobacco programs, can in fact lead to increased health risks for children.
8,300 adults on a yearly basis die from smoking-related causes in Arizona alone. Altogether, about $2.38 billion is spent in Arizona in yearly healthcare efforts related to afflictions brought on by smoking.
More About The Campaign For Tobacco-Free Kids
The Campaign for Tobacco-Free Kids helps to organize a series of youth initiatives, in the effort to promote a healthy lifestyle for those who will soon be at risk. By empowering the youth in fighting against the leading cause of death in the United States, tobacco, the CFTFK hopes that the death toll will significantly drop. Taking Down Tobacco, which takes place March 21st, is a program designed to train youths to resist the use of tobacco.