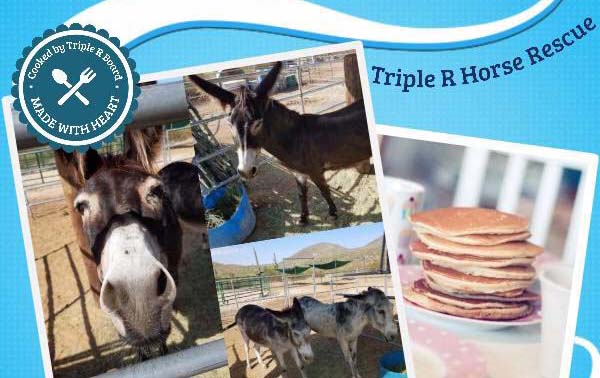 Saturday, Sept 9th from 8 am – 10 am Triple R Horse Rescue Board Members are hosting a Pancake Breakfast at the Triple R ranch for the community to get a chance to meet our new ADORABLE addition of 4 donkeys: Bailey, CC (Cookies and Cream), Snickers and S'more.
You will also get the chance to meet the Triple R Board and some of our amazing volunteers!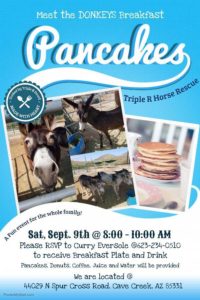 You will need to RSVP to Curry Eversole @ (623) 234-0510, in order to receive a plate and drink. The board will be making you some delicious, fluffy, warm pancakes. Donuts, coffee, juice and water will be provided as well. We will also have some Triple R merchandise for sale, so please bring cash or check.
This is FUN event for the whole family and friends! We look forward to seeing you there!
We are located @ 44029 N. Spur Cross Road, Cave Creek
Directions: From the Carefree Hwy, take Cave Creek Rd. north to Spur Cross Road and turn left onto Spur Cross Road, turn right onto E Grapeview Road and an immediate left onto N Spur Cross Road. Travel 3 miles on pavement and 1 final mile on dirt road. The ranch is on the right hand side. Do NOT stop at the first stable at the end of the paved road; this is not our location. Continue down the dirt road. NOTE: GPS systems will often drop prior to arriving to the destination.