Bees take up residency in a saguaro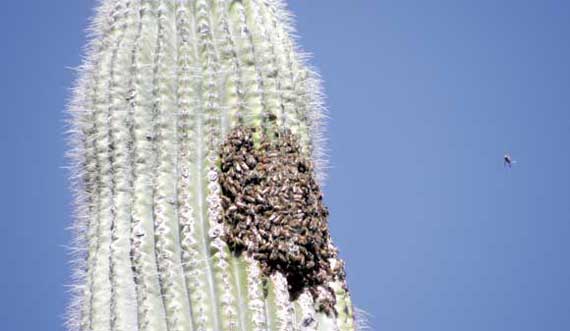 PHOTO BY LINDA BENTLEY
A saguaro that previously served as a nesting site for black-throated sparrows and Gila woodpeckers during springs gone by has recently become the new home for a colony of bees.

To have your photo considered for publication, please send the original high resolution
jpeg file to news@sonorannews.com with Front Page Photo in the subject line.
Be sure to include your name, the date, time of day and general location where
the photo was taken, plus your permission to publish the photo.
Talamante noted everything published about the matter in 2013 was 'bootstrapped' to the council meeting on Oct. 15, 2007

MESA – Following oral arguments on Friday, April 10, Superior Court Judge David Talamante granted Sonoran News' motion for summary judgment, dismissing Gilbert Lopez's defamation complaint.


'MY VIEW' | BY DON SORCHYCH

I attended the Cave Creek council meeting on Monday, April 6 and it was joy to have a majority of four individuals as new council members rather than a slate. Linda Bentley covered what happened so I have only a comment: Use that microphone!

Hand fans first appeared in Europe in the 12th century and became popular in the 16th, carried by both ladies and gentlemen. They remained popular into the twentieth century, even becoming popular advertising giveaways, but like gloves and hats and other article of civility, they were cast aside during the maelstrom of social change in the late 60's and early 70s.
Free event will feature horses, hats and fun for the whole family!
SCOTTSDALE – Valley families are invited to a fantastic family Derby Day party at Camelot Therapeutic Horsemanship. On May 2nd Camelot will open its gates to the public to celebrate the Kentucky Derby at its annual Hooves & Heroes family event & fundraiser. Admission is free, hats are encouraged!