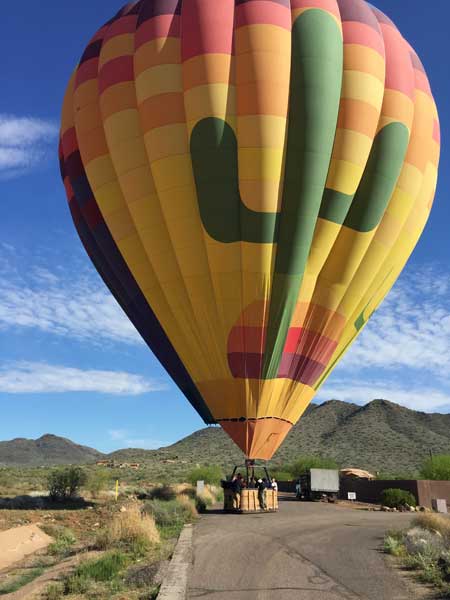 Surprise visitors

"Generally the hot air balloons take off west of us on vacant land. This guy was about 20 feet over my backyard full of people. We invited them in for Bloody Marys! Anyway, they just couldn't gain altitude but drifted slowly east just past Whispering Hills and landed at the first street. They unloaded the folks and deflated the balloon."

Photo courtesy CW Jensen
(taken in the vicinity of 40th St & Galvin)
'We want to be a part of Cave Creek. Not putting access from one side to the other in the general plan is a crime'

CAVE CREEK – Last Thursday's poorly attended general plan meeting kicked off the first of many opportunities citizens will have to participate in updating the town's general plan, which, by statute, must be updated every 10 years.


'MY VIEW' | BY DON SORCHYCH

In a sad turn around of events, our national icon, Blaine Keith, has been terminated from the Dream Street Residence in Carefree. He moved on March 23 to Grace Hill Ranch, 37509 N. 16th Street, Phoenix AZ, 85086, which is about 10 miles from here, north of Carefree Highway on 16th Street.


Special Event Hours: 9 a.m. – 5 p.m.
For Goodness Sake ReTail Shop (Thrift Store Benefiting Animal Rescue Groups), 6127 E. Cave Creek Rd., Cave Creek. 480-575-6760 or visit FGSAZ.com