By Linda Bentley | March 23, 2016
Thinking about running for town council? It's time …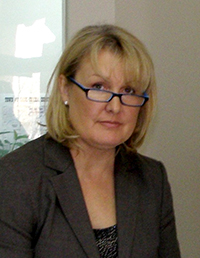 Carrie Dyrek

CAVE CREEK – Now that Arizona has consolidated its elections so that local elections coincide with the national election calendar cycle, Town Clerk Carrie Dyrek announced council candidate packets will be available at town hall on Monday, March 28.

The packets will contain the requirements, forms and instructions necessary to run for office.

Nomination signature petitions must be turned in between May 2 and June 1 in order to run in the Aug. 30 primary election with early voting beginning on Aug. 3.
By Linda Bentley | March 23, 2016
FOUNTAIN HILLS – Free tickets to see Donald Trump in Fountain Hills last Saturday sold out within hours of announcing the event only two days earlier.

Although the hastily put together rally was supposed to start at 10 a.m., it was subsequently bumped to 11 a.m. after Trump agreed to do a town hall meeting with talk show host Sean Hannity at the Phoenix Convention Center from 9 to 10 a.m.

It didn't seem to matter much to the thousands that turned out to see Trump – patiently waiting in the scorching heat.
By Linda Bentley | March 23, 2016
Scoffing at the description of Cave Creek being a Western town, Spence said, 'Cave Creek is an outlaw town, get it right'
CAVE CREEK – During Monday night's Call to the Public, Kerry Smith said there was an omission from the March 7 minutes, regarding concerns involving the Water Advisory Committee raised by Councilman Thomas McGuire, that he believed should be included.

Councilwoman Susan Clancy moved to reconsider their vote approving the minutes, which passed unanimously.

As McGuire attempted to recall what he said, Town Attorney Bill Sims suggested rather than have McGuire try to recall what he said to table the item until Town Clerk Carrie Dyrek can listen to the recording.
March 23, 2016
Encourages students receiving government Pell Grants to complete college
Washington, D.C. — Rep. Matt Salmon (AZ-05) today released the following statement after introducing the Pell for Performance Act.

"The American people are extremely generous when it comes to education funding. However, the sad truth is that even after six years, many students don't complete their degree program. The result of this is essentially a squandered investment, with the U.S. taxpayer on the hook for billions of dollars in financial aid grants given to students who never earned a degree. This has to stop.
March 23, 2016
PHOENIX – The Arizona House of Representatives has passed a bill that gives Arizonans in need of emergency financial assistance a new lending option. The bill, SB 1316, is sponsored by Sen. Jon Kavanaugh (District 23) and now goes to the Senate floor for final passage.

"Today's action is a victory for the thousands of Arizonans who have precious few lending options," said Rep. JD Mesnard (LD-17), the lead House sponsor of the legislation. "Flex loans offer a choice for those who lack the collateral or credit to obtain more conventional loans to help with emergencies and financial hardships. They also protect consumers from offshore, unregulated online lenders and illegal lenders."
March 23, 2016
PHOENIX – Abdul Malik Abdul Kareem, 44, of Phoenix, was found guilty March 17 by a federal jury of one count each of the following five crimes: conspiracy to provide material support to the Islamic State of Iraq and the Levant ("ISIL"), a designated foreign terrorist organization; conspiracy to transport firearms and ammunition in interstate commerce with the intent to commit murder and aggravated assault; transporting firearms and ammunition in interstate commerce with the intent to commit murder and aggravated assault; making false statements to the FBI; and being a felon in possession of a firearm.

March 23, 2016
FAIRFAX, Va.—Americans for Limited Government President Rick Manning issued the following statement encouraging the House Energy and Commerce Committee to focus on upholding the law that defunds the Internet Giveaway rather than enabling it in a hearing today that considers a proposal to end U.S. oversight of the Internet Assigned Numbers Authority (IANA) functions. Currently, there is an active prohibition against spending dollars to proceed with the Internet transfer in place:

"One of the few exercises of Congress' constitutional power of the purse to stop bad policies has been against the Obama Internet giveaway the past two years, where no funds can be used to relinquish responsibility, or to even consider relinquishing responsibility, of the highly critical functions of assigning and routing IP addresses and domain names. It's against the law and yet here we are having yet another hearing pretending the proposal can be considered. It cannot be.
March 23, 2016
A pregnant Tyrannosaurus Rex that roamed Montana 68 million years ago may be the key to discerning gender differences between Theropoda, or meat-eating dinosaur, species. Researchers from North Carolina State University and the North Carolina Museum of Natural Sciences have confirmed the presence of Medullory bone – a gender-specific reproductive tissue – in a fossilized T. Rex femur. Beyond giving paleontologists a definitively female fossil to study, their findings could shed light on the evolution of egg laying in modern birds.
March 23, 2016
The Tucson Sector Border Patrol's Missing Migrant Team needs the public's help to reunite a deceased man, believed to be an undocumented border crosser, with family members.

A rancher in Santa Cruz County discovered the deceased on July 31, 2015. Investigators found no identification on the man or near his body; nor did they identify reports of a missing person matching the man's description.