October 21, 2015
November Events at Cave Creek Museum Feature "Gold Fever" Family Workshop, "A Miner's Dinner" and More



CAVE CREEK – Cave Creek Museum is gearing up for a busy November with several special events and its annual fundraiser, "A Miner's Dinner":

Sunday, Nov. 1 Gold Fever Family Workshop

Time: 1:30 p.m. to 3 p.m.
Location: Cave Creek Museum, 6140 Skyline Dr. in Cave Creek,
Admission: Free with the cost of admission, and children ages 12 and under are always admitted to the museum for free. Reservations are requested.
Highlights: Learn about the gold fever and what it took to mine for gold in the hills surrounding Cave Creek by mining chocolate chip cookies to purchase supplies and food from your gold exchange.
Contact: 480-488-2764 or www.cavecreekmuseum.org

Tues., Nov. 10: "Miner's Dinner"

Time: Stamp Mill Demonstrations: 4 p.m. and at 5 p.m. (free viewing for public)
Event: 4:30 p.m. to 9 p.m.
Location: Cave Creek Museum, 6140 Skyline Dr., in Cave Creek
Tickets: $50 per person. Credit cards accepted. Reservations requested as seating is limited.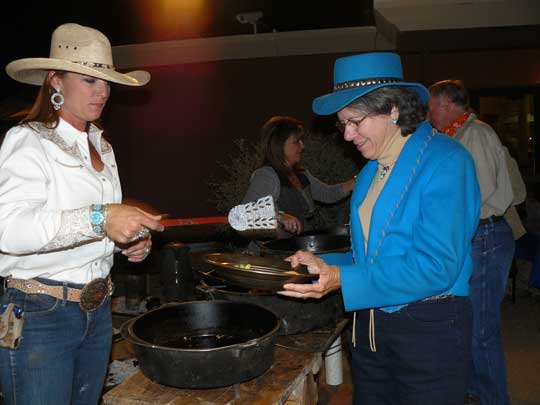 Photo by: Stephanie Bradley

Highlights: Guests will be transported back in time as they dine outside by the Museum's historic "Golden Reef" Stamp Mill that is believed to date back to 1880. Attendees will have a chance to see the fully operational Stamp Mill in action – the only operational 10-Stamp Mill in the state (and the only Stamp Mill in Maricopa County). Guests will also be able to see a blacksmith at work. Dinner will be patterned after that of a traditional miner's fare. Cowboy balladeer Mike Ewing will perform and guests can also bid on silent and live auction items.
Large and heavy stamp mills were used in the late 1800s and through the 1920s to crush hard rock ore so that the gold could be separated and saved. At one time, many such mills were reported to exist in the Cave Creek Mining District. The Museum's "Golden Reef Mine Stamp Mill" was declared to be an Arizona State Historic Property by Arizona State Parks in 1986.
Contact: 480-488-2764 or www.cavecreekmuseum.org

Located at 6140 Skyline Drive, Cave Creek Museum features an extensive collection of prehistoric and historic artifacts that describe the lives of Native Americans, miners, ranchers and pioneers. The Museum hours are Wed., Thurs., Sat. and Sun. from 1 p.m. to 4:30 p.m., and Fri. from 10 a.m. to 4:30 p.m. Entrance fees are $5 for adults; $3 for seniors; and $2 for students. Children 12 and under are free. For information, call 480-488-2764, or visit www.cavecreekmuseum.org.