October 7, 2015

Friday was a battle of two strong football teams. The Falcons came out ready to play against the number one team in Division 3 and gave them all they wanted all night. We played well in all three phases of the game and we won the turnover battle 3-0, however at the end of the night the Paradise Valley Trojans out athleted us and we lost 36-44. We knew going into the game that we would need to limit their opportunities on offense, control the football, not give up the big play and win the turnover battle in order for the Falcons to come out with a victory. We did most of that. Paradise Valley has two division 1 commits and they were all that they were billed to be. I am proud of coaches for putting together an excellent game plan and even more proud of the players for following through with that plan. Even though your Falcons lost the game on the scoreboard they had a lot to be proud of in their play as a collective unit. I am proud to be the Head Football Coach of the Falcons.

This Friday the Falcons will take on Barry Goldwater for Senior Night at the Nest. Goldwater is 0-6 and is a team that has struggled this year. We need to come out and play our game and continue to play at a high level. Our goal is to finish 7-3 and this is the first step in that quest. Please come out and pack the house again this Friday as we recognize an outstanding group of Falcon Seniors. Thank you for your continued support of Falcon Football and we will see you Friday. Go Falcons!
Oct. 2 (H): Falcons fight falls short; P.V. Trojans win shoot-out, 44-36
'Birds seek "Senior Night" bounce back, Oct. 9

Chaining up the Bulldogs!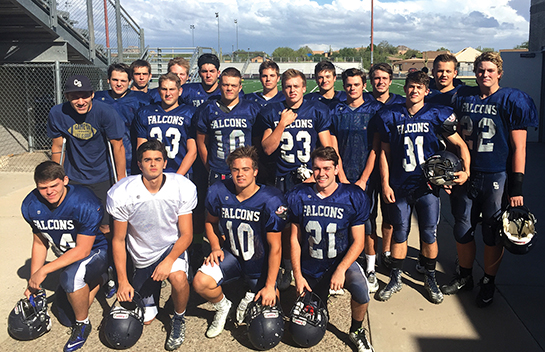 On "Senior Night," Oct. 9, the Football Falcon seniors pictured on the right will be leading the CSHS effort to secure the team's fourth win of the season when they chain up the visiting Barry Goldwater Bulldogs.

Front row (L-R) Caleb Young, Alex Doughty, Ryan Sefcik, Ethan Bondurant Second Row (L-R) Logan Kloss, Greg Ketter, Michael Maloney, Matt Sill, Joe Hoffmann, Antonio Marchica, Barrett Elletson Third Row (L-R) Sean Long, Brendon Long, Justin Intolubbe, Carlo Paoletti, Troy Ralston, Cory Johnson, Connor Musick, Dayton Overby Not Pictured: Tim Dabrowski, Matthew Stevenson