September 16, 2015
Anthem's Kylie McKenzie's U.S. Open run ends in Quarterfinals
FLUSHING, N.Y. – Anthem's unseeded Kylie McKenzie had her U.S. Open Junior singles run end on Friday as she fell in the quarterfinals to No. 11-seed Fanny Stollar of Hungary in three sets at the USTA Billie Jean King National Tennis Center.

"It was a great run, and I had an incredible experience here," said McKenzie, 16, a USTA wild-card selection who lost the match, 6-2, 3-6, 6-3. "I had my chances there in the third set. I'm happy with the way I played and will just learn from this experience."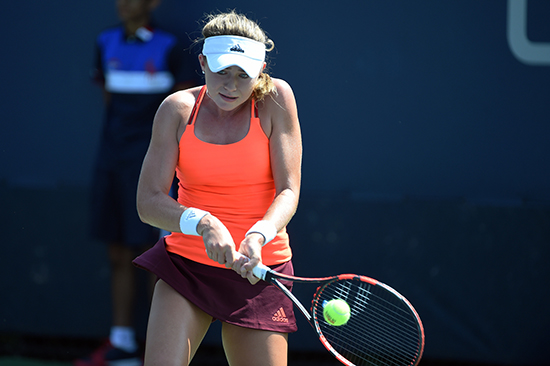 Photo by: USTA
Kylie McKenzie

On Wednesday at the junior singles championships of the season's final Grand Slam McKenzie downed qualifier Valentini Grammatikopoulou of Greece, 7-5, 6-4, to reach the quarterfinals. "It's awesome, I can't believe I'm in the quarterfinals of the U.S. Open," McKenzie said after her third-round win. "It's been just an amazing experience and I just hope to keep it going."

McKenzie is being coached in New York by former Arizona State men's coach Lou Belken. "He's just telling me to go out there and play my game and go out there with confidence," she said.

McKenzie said she's aware she has fans back home in Anthem who are cheering for her. "It's just a little town in Arizona," she said. "I have a lot of people back home supporting me."

McKenzie next faces the No. 11 seed from Hungary Fanny Stollar, who beat McKenzie in Southern California back in April the only time they've faced each other.

"Her style is a little like mine and she hits big like me," McKenzie said. "Hopefully I serve big tomorrow and can stay tough mentally."

McKenzie upset the No. 3-ranked junior player in the world on Tuesday in the second round at the U.S. Open Junior Championships.

She shocked the No. 3-seeded Russian Anna Blinkova 6-1, 6-4, on a humid New York day. Blinkova was a singles finalist at the Wimbledon Junior tournament in July.

"I felt the heat get to me a little bit in the second set when I was up 3-1," McKenzie said. "To get here as a wild card and to win two rounds is pretty exciting."

She added, "If I just keep a good mindset I think I can go pretty far."

On Monday, McKenzie and her doubles partner Alexandra Stanford were beaten by Blinkova and Olesya Pervushina of Russia, the No. 4 seeds, 6-4, 6-4.