September 16, 2015
Cave Creek Museum Re-opens for the Season on Thurs., Oct. 1
Free admission on Sept. 26 during Smithsonian Magazine Museum Day
CAVE CREEK – Cave Creek Museum re-opens for the season on Thurs., Oct. 1. Located at 6140 Skyline Drive, the Museum features an extensive collection of prehistoric and historic artifacts that describe the lives of Native Americans, miners, ranchers and pioneers.

The public will have a special chance to preview exhibits on Sat., Sept. 26 during the free national Smithsonian Magazine Museum Day. The celebration takes place from 1 p.m. to 4:30 p.m. followed by a special Pre-season member's reception from 4:30 p.m. to 7 p.m.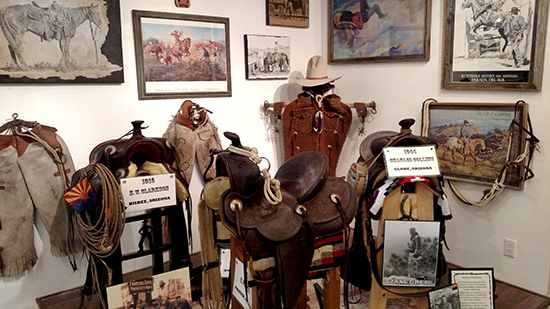 During the Smithsonian Magazine Museum Day, guests can view Cave Creek Museum's new and permanent indoor and outdoor exhibits, including an historic Stamp Mill dating back to 1880. The public event from 1 p.m. to 4:30 p.m. will feature guests from the Salt River Pima-Maricopa Indian Community including staff from the Huhugam Ki Museum. They will set up for the afternoon and help educate visitors about their rich culture and history. This dates back to the ancient Hohokam which is supported by Cave Creek Museum's current Archaeology exhibit.

The afternoon will be filled with actual basketry, pottery, leather craft, beadwork and twining demonstrations. The Museum staff will be exhibiting outdoor cooking and discussing information about indigenous foods from their community and the Sonoran desert.

Highlights of the new season include a special saddle display, monthly outside demonstrations of the historic Stamp Mill, a renovated archaeology wing, a new series of monthly History Highlight presentations and a new series of monthly family programs.

The new History Highlight presentations will take place monthly from 2 p.m. to 3:30 p.m. on Saturdays in the historic church on the museum's property, beginning on Saturday, Oct. 10 with "Growing Up Cave Creek." Admission is free to Museum members and $5 for non-members. Reservations are suggested as seating is limited.

Beginning Sunday, Oct. 4, the Museum will host Family Fun Activities for children and adults the first Sunday of every month from 1:30 p.m. to 3 p.m. Family Fun Activities are free with the cost of admission, and children ages 12 and under are always admitted to the museum for free. Reservations are requested to ensure the museum has enough supplies on hand for everyone who wants to attend. Participants in the Oct. 4 "Our Desert Neighbors" program will learn about desert animals.

The museum hours are Wed., Thurs., Sat. and Sun. from 1 p.m. to 4:30 p.m., and Fri. from 10 a.m. to 4:30 p.m. Entrance fees are $5 for adults; $3 for seniors; and $2 for students. Children 12 and under are free. For information, call 480-488-2764 or visit www.cavecreekmuseum.org.