BY MARIELLE D. MARNE | AUGUST 19, 2015
Superior senior living at Desert Flower Assisted Living and Memory Care Center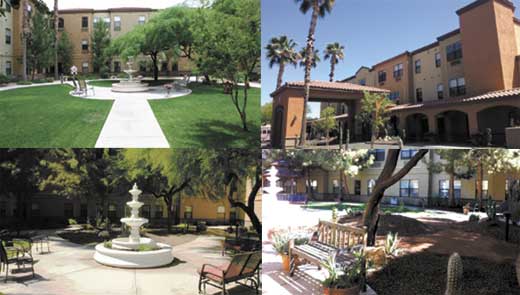 SCOTTSDALE – Sometimes it's hard to give up the family homestead, but at Desert Flower Assisted Living and Memory Care Center, seniors are having a blast! Of course, there are various levels of care - assisted living, memory care, respite and adult day care – and several choices for housing - studio, one bedroom, two bedroom apartment homes – but residents are there for the fun. With no more yards to keep up, cooking to do or laundry to wash, those living at Desert Flower partake of bingo, movie night, shopping excursions, dancing, casino runs, even brain games to keep them sharp.

Since 1999, seniors and their families have declared Desert Flower to be warm, welcoming, friendly, homey, inviting, cozy, which is exactly how its staff wants them to feel. They very much encourage family to visit and be a part of the community. And that includes pets. (A care plan is in place should an owner be unable to tend to the pet.)

One aspect seniors love is maintaining their lifelong habits. If they like to sleep 'til 10 a.m., they don't have to fret they will miss breakfast. They can have pancakes in their rooms at midnight if they so desire. When residents move in, someone sits down with them and asks several pages of questions about their lifestyles and favorite activities. They don't expect the residents to change; no, they operate the facility as to the needs of those living there. The monthly events calendar is ever-changing, and staff asks for input so everyone has something to do.

The best course of action to take is to make an appointment to tour Desert Flower Assisted Living and Memory Care Center (9185 E. Desert Cove). The location is ideal and staff can't possibly be more attentive. Phone 480-657-9000 to see for yourself!