BY LINDA BENTLEY | JULY 15, 2015

PHOENIX – After speaking earlier in the day at FreedomFest, a libertarian gathering at Planet Hollywood in Las Vegas, Donald Trump electrified a capacity crowd at the Phoenix Convention Center on Saturday. The venue was changed on Thursday from the Biltmore Hotel when the demand for tickets far exceeded the Biltmore ballroom's capacity.


BY LINDA BENTLEY | JULY 15, 2015
Macys backing Trump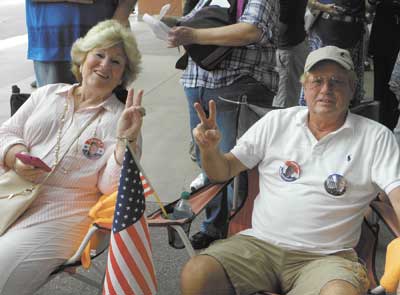 After illegal alien activists threatened a boycott, Macy's department store decided to cancel its line of Trump clothing. However, after Macy's canceled the Trump line, thousands of people cut up their Macy's credit cards, including Kathy and Mark Macy of Gilbert, who waited in line in relative comfort in the 100 degree heat to see Donald Trump at the Phoenix Convention Center on Saturday.

BY LINDA BENTLEY | JULY 15, 2015
The court is shocked and surprised at the cavalier attitude the government has taken with its 'efforts' to rectify this situation
BROWNSVILLE, Texas – On July 7, U.S. District Court Judge Andrew Hanen issued orders and stern words for the Obama administration in two separate cases associated with President Obama's executive amnesty.

JULY 15, 2015
Bill mandates five year sentences for deported aliens who illegally return
WASHINGTON, D.C. – Rep. Matt Salmon (AZ-05) today released the following statement after introducing the Establishing Mandatory Minimums for Illegal Reentry Act.

JULY 15, 2015
"Let's Shake Up Washington Together"
LAKE HAVASU CITY, AZ – Dr. Kelli Ward, a State Senator and family physician, announced this Tuesday she will challenge John McCain for Arizona's U.S. Senate seat in the Republican Primary next year.