JULY 1, 2015
First Responders climbed Mt. Humphrey for Police Surviving Families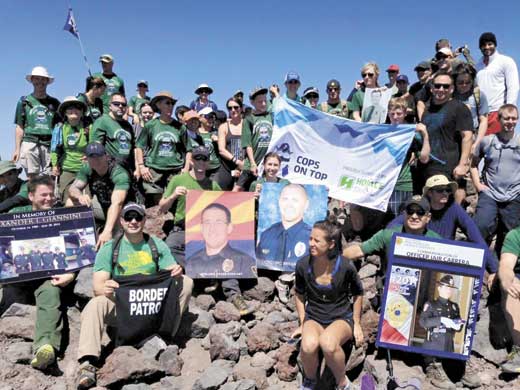 FLAGSTAFF – First responders and their families climbed Mt. Humphrey's Peak Saturday, June 27 to honor fallen police officers and help rebuild the shattered lives of their surviving families. "Cops on Top" is a team of law enforcement supporters who are fundraising for Concerns of Police Survivors (C.O.P.S.) Arizona.

The participants undertook mountain climbing expeditions to honor the memories of those heroes who have lost their lives in the line of duty protecting others. Every year this organization has about 700 members from each state hike to the highest point in their state to honor those who died in the line of duty. In Arizona that point is the top of Humphrey's Peak in Flagstaff, with an elevation of 12,633 feet.

This year, the Arizona team was made up of over 226 members representing 27 different public safety and public service agencies throughout the state. The group hiked to honor and remember all fallen officers, with a particular focus on the officers from Arizona who died in 2014 and 2015 (right).

If the public would like to help assist fallen officer survivors, donations are always accepted via C.O.P.S. Arizona's website at www.copsarizona.org. C.O.P.S. Arizona is a 501(c)3 and receipts are automatically sent with every generous contribution. Additionally, Arizonans can pay respects to fallen officers all year by purchasing a specialty license plate for your vehicle. Citizens can order an Arizona C.O.P.S. specialty plate through ServiceArizona.com.