BY MARIELLE D. MARNE | MAY 6, 2015
Residents feel blessed to be part of retirement living at the Heritage at Carefree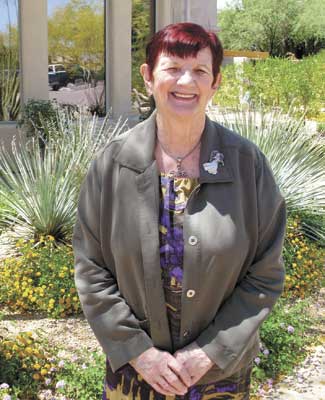 CAREFREE – Faith is more than important to Sheila Elmer (r), it's woven into the very fabric of her being. So she is exceptionally pleased at the many ways the Heritage at Carefree incorporates religion/spirituality into the retirement living home. For those residents interested, there is a plethora of Bible studies as well as Christian Soup for the Soul. "I am very blessed to be here," Elmer added.

Born in England, Elmer has been a resident at the Heritage for three years. She'll be turning 82 on May 31 and appreciates the fact everything she needs is provided. "I don't have to cook; I don't have to do housekeeping or laundry. The rooms are spacious. Everyone is so kind and caring. The kitchen is very generous. If you want a snack or soda between meals, they are accommodating any time of the day. And if you don't feel well, they will bring your food to your room," she explained.

The owners, Donna Holbura and her family, are instrumental in the success of the Heritage. "Donna does a great job; I just love her. The whole family is very kind," Elmer offered. The Holburas are always coming up with new ways to keep the residents engaged and active. "We have entertainment where artists come in and do a show, Thursday is happy hour, we exercise each morning, and there's Bingo and (in-house) movies."

The Holburas recently purchased a Mercedes Sprinter transport van used for Tuesday lunch outings and trips to the cinema. They have thought of everything and exceed their "luxury, elegance and comfort in senior living" motto. It's evident from the moment you pull up to the grand façade and take in the manicured landscape currently in full bloom.

The Heritage at Carefree Retirement Living is located at 36590 N. Pima Rd. Take a peek at their website – www.heritagecarefree.com and then call for a tour – 480-488-1622.