APRIL 8, 2015
Harold's Corral wants to hear from former employees, bands and couples who met there for 80th Anniversary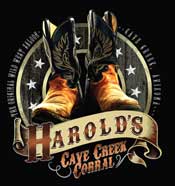 CAVE CREEK – In anticipation of its 80th anniversary in September, Harold's Cave Creek Corral is reaching out to the public to re-connect with former employees for a special reunion, line up old bands and musicians for a festive musical weekend, and invite couples who met there to share their stories of how they met. It's all part of a month-long celebratory series of events that will take place in September to commemorate eight lore-filled decades of dining, entertainment and fun.

Former employees, musicians that played at Harold's, and couples that met there are encouraged to contact the restaurant at haroldscorral@gmail.com for more details about what is being planned.

Among the many festive anniversary events planned for September:

An Employee Reunion with karaoke on Wed., Sept. 9.

A Love Corral night on Sat., Sept. 12. Couples who met at Harold's are encouraged to share their stories – even if they've broken up. Couples can submit their stories to haroldscorral@gmail.com by Sat., Aug. 1 for a chance to win a prize.

A History Dinner on Tues., Sept. 15 that will benefit Cave Creek Museum.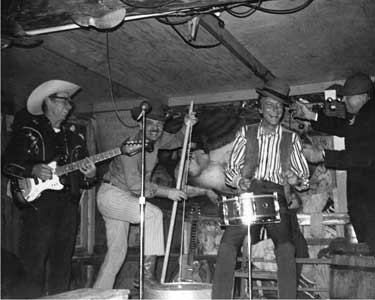 The big Harold's 80th Birthday Bash, which will feature guest appearances by celebrities who have visited Harold's, live music, kid's activities and more, is set for Sat. and Sun., Sept. 26 & Sept. 27. The weekend blowout party will feature current and former bands and musicians who have performed at Harold's.

The restaurant also is seeking old photos that will be considered for a special display to be unveiled in September. Those interested in sharing old photos should either send scanned photos to evelyn@cavecreekmuseum.com or call Cave Creek Museum at 480-488-2764. In addition, the Museum is planning a reunion of Cave Creek Elementary School students who would have attended the school from 1950 to 1983. The school reunion will take place at Harold's on Thurs., Sept. 17 and former students can contact the Museum for more details.

Several other 80th Anniversary events and promotions are being planned for the month of September, including a Steelers Party, a special day where the menu will reflect prices from 1935, and more.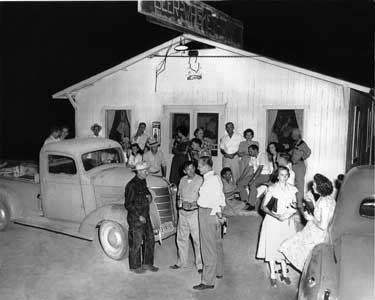 A man named Johnny Walker built the original structure of Harold's Corral in 1935. Back then it was known as The Cave Creek Corral Bar, and it became popular with patrons who spent their days building Bartlett and Horseshoe Dams. There were seven bars in Cave Creek at that time, but by 1947, when the dams were finished and the workers left, The Corral was the only bar that survived.

Somewhere around 1950, Harold and Ruth Gavagan purchased the building, changing the name to Harold's Cave Creek Corral. Though Harold passed many years ago, and ownership has changed just three times, the restaurant's current owners continue the legend with delicious food, live entertainment, and a unique hospitality that can only be experienced first-hand.

Harold's Corral is located at 6895 E. Cave Creek Rd. in Cave Creek. For information, call 480-488-1906 or visit www.haroldscorral.com.