BY LINDA BENTLEY | MARCH 25, 2015
Cave Creek woman faces criminal charges in animal hoarding raid
Evans called the conditions inside the home 'deplorable'

MCSO deputies arrived at Lucille Willis' home in Cave Creek on Wednesday after receiving a tip from a neighbor concerned about the welfare of her animals. After finding extreme hoarding conditions outside the home, deputies returned on Thursday morning with a warrant. Photo by Linda Bentley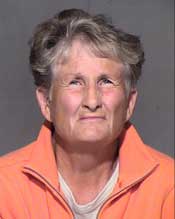 CAVE CREEK – On Wednesday, March 18, Maricopa County Sheriff's Office deputies responded to a tip from a neighbor concerned about the welfare of animals at the home of Lucille Willis (r), 67, in Cave Creek.

When animal crimes investigators arrived, they found extreme hoarding conditions around the outside of the home and returned the next morning with a warrant.

They said the stench from the home hit them before they made it down Willis' driveway.

MCSO deputies arrived along with MASH (Maricopa Animal Safe Haven) personnel and numerous animal transport containers (below).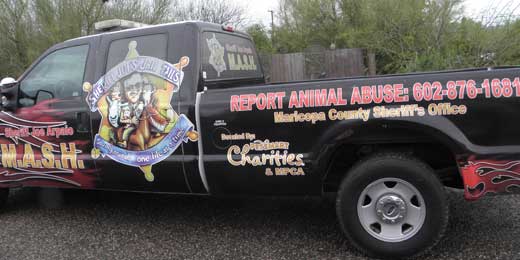 Twenty cats and three dogs were removed from the home and one cat was found dead.

One dog and one cat were in such precarious health they were immediately taken to a veterinarian.

MCSO spokesman Dave Evans said all the animals were covered in feces and many had eye and respiratory infections.

Evans said animals were everywhere inside the house living in their own excrement and there were feces all over the walls.

He said the house was so cluttered inside there was nowhere to sit and only "ant trails" to get through.

Evans called the conditions inside the home "deplorable."

However, Evans said arresting people for hoarding doesn't necessarily fix the problem and what they've seen is two or three years down the road they're right back at the same house.

Anthony Kern, who cofounded the Arizona Hoarding Task Force (AzHTF), "a collaborative effort of diverse community organizations and representatives dedicated to the awareness, education and reduction of harm for those impacted by the complex behavioral disorder of hoarding," said there were no support groups or anything out there to allow a person to get some help.

AzHTF's website states: "Our mission is to provide a statewide resource for those individuals and communities affected by hoarding while keeping the health, safety and dignity of the individual a priority."

While 3,500 animal hoarders come to the attention of authorities every year, it affects at least 250,000 animals.

Between 2 and 5 percent of the general population meet the criteria for hoarding, including both objects and animals.

Kern said statistics show 100 percent of those who do not get treatment for hoarding will relapse.

Eighty percent of animal hoarders have diseased, dying or dead animals on the premises and 70 percent of animal hoarders who come to the attention of authorities are females who are single, widowed or divorced.

According to the Anxiety and Depression Association of America, approximately 40 percent of object hoarders also hoard animals.

After being transported downtown for questioning, Willis was booked into Maricopa County Jail on 23 misdemeanor counts of failure to provide adequate shelter and 23 counts of failure to provide medical care.

Willis' animals are being cared for at the MCSO MASH unit and will be put up for adoption as soon as they are healthy.