BY MARIELLE D. MARNE | MARCH 4, 2015
Take health farther with McFarlane's acupuncture and chiropractic care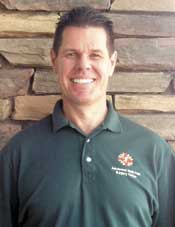 CAREFREE – When Dr. Jay McFarlane (right) took over Carefree Acupuncture for Drs. John Amaro and Debra Richel upon their retirement, he had some pretty big shoes to fill. The proverbial reins were turned over July 2014, and already McFarlane has been well received not only by former patients of Carefree Acupuncture, but also by the many new referrals he's received. "Things are going phenomenal," McFarlane said, intending to continue the Amaro/Richel legacy. "People are saying great things about us." The "us" includes the office staff that agreed to stay on, the three of whom offer a warm familiarity for longtime clients of the practice.

But it's not only the convenient office locations (7518 E. Elbow Bend Rd. or 11030 N. Tatum Blvd. #102), the impressive credentials of Dr. McFarlane (he offers chiropractic and acupuncture, as they go hand-in-hand, a seven-day detox and even touts the benefits of essential oils) or the staff that assures patients are comfortable, it's the fact those who go in to see him come out feeling better. They are living testimonials as to optimal results! Word does get out and in a single day, five Desert Foothills neighbors became new clients.

McFarlane added, "I like the small town feel we have around here. Everyone talks to each other. The people in this area are used to getting the best of the best and that's what we strive to provide. We do whatever it takes to get a patient healthy, and what I'd like to see is people getting once-a-month supportive care since it would eliminate a lot of potential injuries and certainly save money in the long run."

So stop suffering from back, joint, neck pain, quash the headaches, tackle issues like tinnitus, ADD, rashes and hot flashes! Call Jay D. McFarlane, DC at 480-488-9647 to go beyond relief and feel better than ever.