BY LINDA BENTLEY | FEBRUARY 18, 2015
Hideaway weekend event creates traffic chaos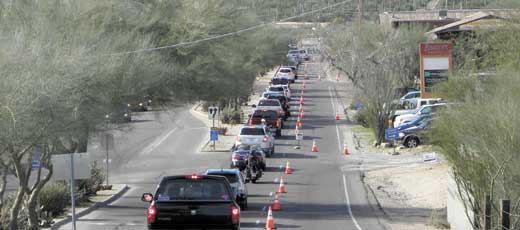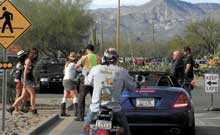 The town of Cave Creek allowed the right westbound lane of traffic to be closed off over the weekend to allow for motorcycle street parking in order to accommodate a special event at the Hideaway Bar and Grill, which used its own parking lot for exhibitors. Traffic was backed up all the way to Stagecoach Village as Maricopa County Sheriff's deputies stopped traffic to allow pedestrians to cross back and forth between the Hideaway and Hogs 'N Horses.
BY LINDA BENTLEY | FEBRUARY 18, 2015
CAVE CREEK – On Feb. 12, Attorney Loren Ungar with the Rose Law Group (Vice Mayor Adam Trenk's employer) filed a notice of claim against the town on behalf of Darrell and Meridy Hulsing and T.C. Thortenson with a $10 million settlement demand.
FEBRUARY 18, 2015
Ambiguity regarding State Board of Education
PHOENIX – Superintendent of Public Instruction Diane Douglas stated her desire to clarify that the Arizona State Board of Education staff is under the administrative supervision of the Board.
FEBRUARY 18, 2015
STATE CAPITOL, PHOENIX – Representative Michelle Ugenti introduced legislation this week amending and clarifying Arizona's statutory definition of "political committee." House Bill 2649 defines who is considered a political committee in order to avoid capturing individuals who come together to simply express their First Amendment rights.
FEBRUARY 18, 2015
Seeks to protect voting eligibility verification from federal interference
WASHINGTON, D.C. — Rep. Matt Salmon (AZ-05) released the following statement upon introduction of the State Sovereignty in Voting Act, a bill that would ensure that the several states ultimately decide for themselves whether to require documents above and beyond the federal standard to determine citizenship for voting registration.