BY LINDA BENTLEY | FEBRUARY 11, 2015
Carefree wants revitalized town center but at what cost?
CAREFREE – Call to the Public brought Cave Creek Museum Executive Director Evelyn Johnson to the podium to let council know Carefree has been added to the museum's Arizona Memory Project, with an online collection of photos, maps and other documents that recognize Carefree's history.

Jim Van Allen also spoke, urging council to postpone any vote on a resolution being brought forward to advance the proposed Easy Street mixed use project.

He said Carefree residents deserve a referendum to vote on the issue.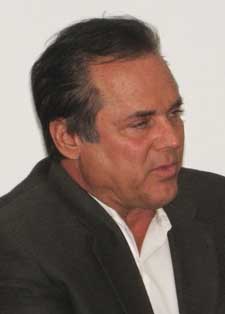 There's no question the town center is in what Councilman Mike Farrar (l) called a "death spiral," as business after business shutters its doors.

Ed Lewis of Butte Companies brought a proposal to the town in conjunction with ASU, a willing partner, to create a cultural facility in the town center in conjunction with Phase I of his Easy Street project, a mixed use retail and luxury condo project for those who want what he calls a "lock it and leave it" lifestyle.

The project is being marketed to people as seasonal residents or people who are frequent travelers.

Lewis said the town center needs more pedestrian traffic and a cultural center, in conjunction with his project, will bring that kind of pedestrian traffic to reinvigorate the town center.

In fact, he said he won't develop his project unless there is a cultural draw and an agreement for shared parking.

The only sticking point is he wants the town to pay for the cultural center, which he agreed to build at his cost, including the cost of the land.

The estimated cost has now gone from the initial estimate of $2.5 million to somewhere around $4 or $5 million.

The town discussed paying for the center with revenues from condo sales and payments it will start receiving from a loan it made to the water company.

While the town owns land sufficient to build a cultural center, Butte Vice President Kirsten Brown said if it chose to do so at this point, Butte would have no control over the timeline in getting it done.

Van Allen said there were other options, including a newly vacated 5,000 square-foot building (Wild Holly Gallery) on Easy Street in a prime location across from the amphitheater.

He said he was also surprised that another option has never come up for discussion which is an offer on the table to provide ASU with the use of a 9,000 to 10,000 square-foot commercial space at the corner of Easy Street and Hum Road.

Van Allen said, "Everyone seems to want to be an expert on numbers but the assumptions, so far, don't add up."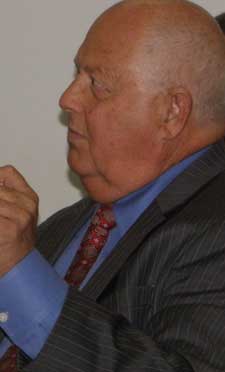 Citing A.R.S. § 9-1201, Town Attorney Michael Wright (r) said council had two resolutions before them – one numbered 2015-02 that was submitted by the mayor and the only one in the council packet and one with a blank number, which he redlined, submitted later by Butte and ASU that was much lengthier.

He said the problem with the resolution submitted by Butte and ASU is it was tantamount to what statute calls a "protected development right."

Wright said if council were to approve a resolution, to approve the numbered one because it does not rise to the level of a protected development right and advised council not to sign the Butte resolution, stating it troubled him.

Councilwoman Melissa Price stated ASU and Butte were not prepared to move forward without an endorsement and said, "Delay is the deadliest form of denial."

She said the resolution by the town or the redlined version would allow the project to move forward without making a commitment.

Vice Mayor Les Peterson said the new resolution wasn't any different than the resolution the town approved last year.

Price made a presentation and said there were fears ASU will leave after five years and dispelled the notion the town would be stuck with a white elephant.

She said the building would be a town asset and buildings can have other uses.

Price asked, "What if we do nothing? Empty storefronts will grow and the likelihood of property taxes increases," a worst case scenario.

She said Butte has been working on this for two years and urged council to sign the resolution.

Councilman John Crane said they asked Lewis to write a resolution but stated the one the mayor wrote and the redlined resolution. While they both contain "nice words" they only reinforce the resolution they passed last year.

Peterson said, "We're being asked to commit to paying for this without any numbers."

Farrar expressed concerns that Lewis was only committing to Phase I of his project.

He said maybe the town should pay 50 percent upon completion of Phase I and pay the other half upon completion of Phase II.

Councilman Glenn Miller said they've not seen a plan from Desert Foothills Theater, which also made a pitch to the town, yet.

Mayor David Schwan said the Butte resolution, as written, handcuffs the town, whereas it can't negotiate or talk to anyone else. It is an exclusive agreement with Lewis and ASU.

Miller said, "The bottom line is, we asked them to come up with a resolution. We didn't give them any direction."

Farrar said the resolution was much more far-reaching that what council discussed the previous week.

Discussion about bringing the item to voters raised the issue of more delay since the consolidated election law only allows for a November election.

Schwan said, "The problem we have is everyone on this council has different numbers. We need to all sit down at another workshop and agree on one set of numbers."

Peterson said, "We need to resolve a business plan that works for the town, Butte and ASU," and asked, "How do we move this forward."

Crane said, "We need to come up with a plan. How do we move this forward in a way that actually works?"

Farrar suggested approving Resolution 2015-02 and said, "We're not ready to adopt the other resolution."

During public comment, Joe Devito said there were references to the Meyers Report that bothered him and asked if anyone on council had seen the entire report or just the two or three pages.

Schwan stated they only had the two and three pages provided by Lewis.

Devito urged them to ask Butte for a copy of the full report.

He stated, "I'm uncomfortable with the whole project. We're giving a bakery and getting a half a loaf back."

Bob Gearhart said he supported the development of the Lewis project and ASU and stated, "I hope you can get the information you need to move this forward."

John Traynor thanked council for airing the discussion publicly. However, he said sending out fundraisers is not the way to find out if there's support in the community.

He said the best way is to ask voters.

Stephanie McNeely with Dominion Realty said, "I hope you guys don't blow it."

Lyn Hitchon asked if anyone had thought about asking voters to approve a bond to fund the project like Cave Creek did to purchase Spur Cross with a temporary property tax.

Jerry Wetta said he's been concerned about the project from the beginning and stated they need to get all their figures together and present them to the town.

Richard Stewart said the town of Carefree has done a great job with the town center but stated, "We're all fatigued with this project," and quoted Vince Lombardi, who said, "Fatigue makes cowards of us all."

Schwan said he agreed with Crane that the town needed to do something that night to move the project forward.

However, he said he could not support the blank numbered resolution.

Crane suggested knocking out a development agreement.

Schwan suggested staff, Butte and ASU come together and agree on a resolution that could be adopted in a week.

Wright said a week was a little short.

Lewis said when he and ASU presented their proposal they didn't mean to present a legally binding agreement and stated he has never dealt with a six-headed monster before, jokingly referring to council (Councilman Marty Saltzman absent).

However, Lewis stated the resolution the town brought forward was not sufficient and if the resolution he brought forward doesn't work for the town, they'd need a new resolution.

Mayor said they would review another resolution in two weeks.

Lewis said ASU is excited to come to Carefree and he supports the effort to come back in two weeks.

Lewis also said he was unaware of "protected development rights" and didn't consult an attorney when he drafted the resolution.

Schwan asked Lewis for a copy of the entire Meyers Report, which Lewis agreed to send and said it was about 20 pages.