FEBRUARY 11, 2015
Showtime for those small but mighty miniature horses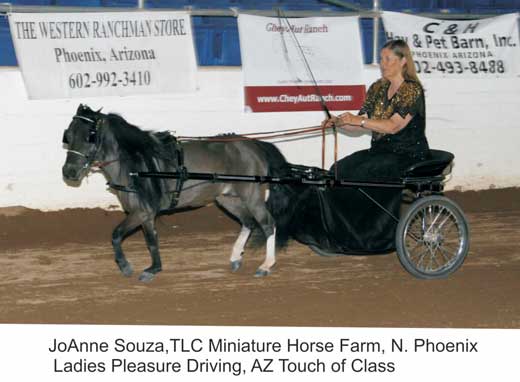 It's about that time to round up and show off the small but mighty Miniature horses in the upcoming 2015 Spring Spectacular Miniature Horse shows which are sponsored by the Miniature Horse Association of Arizona (MHAA). The one-day 2nd Annual Kick Off Arizona Miniature Horse Show will be held March 19, 2015, in Arena 3 at WestWorld of Scottsdale, Arizona. Then the 28th Annual Arizona Touch of Class Miniature Horse Show will follow on March 21 and 22, Saturday and Sunday, with 100 AMHA approved classes including halter, driving, obstacle, liberty, costume, jumping, and roadster categories for adults and youth entries. Each show will have three judges from around the U.S. to select the top winners in conformation, behavior, performance and showmanship of the Miniatures.

Miniature horses from Arizona and the surrounding states of California, Nevada, New Mexico, and Texas will be competing for awards and points to earn eligibility for the AMHA World Show in the fall. The Touch of Class show is in its 28th year, to be held in the Equidome at WestWorld of Scottsdale. Rain or shine the show will go on. Exhibitors can contact the show manager, Ruby Priore, (918) 576-1452 for show premiums, entry forms, and show information.

Both shows will be held at the WestWorld show grounds located at 16601 N. Pima Road, Scottsdale, Arizona, with shows starting at 8 a.m. daily and running till 7 p.m. Also on the grounds will be food and refreshments and various vendors specializing in horse products, apparel, jewelry, arts and crafts. The MHAA invites the public to come out to watch the fanciful little equine performing and judge for themselves, the beauty and pleasure they display and bring to the horse world. Free admission and free parking will be available for all spectators. A silent auction, raffle, and barn tours will add to the festivities at the Touch of Class Show.

On March 21, Saturday, a special demonstration by the Arizona Driving and Carriage Society with the VSE (Very Small Equine) category being driven through a Cones course will be held during the lunch intermission. The nationally renowned Arizona Mini Mystique, precision driving Miniature Horse team, will have a special presentation of their precision driving on March 22, Sunday, for the afternoon intermission, driving horses with carts in patterns of circles, rows, figure 8s, crisscrossing and more, which is sure to leave spectators awe-struck at their spectacular performance.

For show info: 602-577-7618. Website: www.AZminis-MHAA.com.