BY LINDA BENTLEY | FEBRUARY 4, 2015
Will cultural facility reverse Carefree's death spiral?
'I just see a property tax looming in the future if the town does nothing'
CAREFREE – Kevin Kugler, project manager with Michael Baker Corp., which conducted a study for the Carefree Town Center, spoke during last Tuesday's council workshop to discuss the feasibility of funding a cultural arts facility.

Kugler stated the town should conduct a needs analysis, develop a business plan for an operating budget, look at contingencies for non-performance and minimize risk to the town.

Kugler said the facility will need to appeal to a broad cross-section of the population, but pointed out Carefree's population alone cannot support a cultural facility.

"Ideally, it will compliment daytime and nighttime activities," said Kulgler. "You don't want dead space."

He said although the town has a desire to incorporate multi-purpose space in the cultural facility, the Village Center Master Plan has numerous other components to consider.

Vice Mayor Les Peterson explained what the town was trying to achieve with a cultural center:

• Help establish Carefree's identity,

• Help increase pedestrian traffic in the town center, and

• Generate significant increases in sales tax revenue without imposing a property tax.

Peterson pointed out the town could obtain sub-3 percent financing and said a significant amount of money is available to the town if it wants to borrow.

He pointed out the Holland Community Center sees 667,000 visitors annually at its facility.

According to Peterson, Carefree's festivals currently generate approximately 100,000 visitors.

He said merchants and residents need to be behind the project and it needs to be something residents want, supplemented by visitors.

It would need to have broad participation, generate significant attendance and be open 360 days per year.

Peterson also stated it must be sustainable financially and the operator must have experience in successfully operating a cultural center.

He said it would be financed through income generated by the draw to the facility and through fundraising and displayed charts showing how long it will take to pay back the investment based on some assumptions.

The bottom line, however, was the project has to make sense for everyone.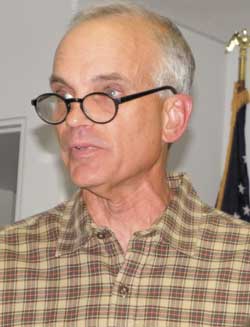 Councilman John Crane (r) said, "The best way to invigorate the town center is to bring people here."

He said, "Without the cultural center, Ed Lewis doesn't develop. If he doesn't develop, we don't bring any new people."

Crane said the town is on a downward spiral if they do nothing.

Stating a cultural center will help brand the town, Crane also said the programming will need to be flexible because people will change over time.

Councilman Glenn Miller stated he was speaking from his heart, just wants what's best for Carefree and has no personal agenda.

He said council talks about branding all the time and Carefree wants an upscale image, which he said the Ed Lewis project would achieve by attracting people who enjoy fine dining, fine art and entertainment.

Miller said the project is much needed to jump start and invigorate the town center, while pointing out, "The town needs ASU and Ed Lewis more than they need us."

Miller said a fiscal analysis impact study was performed by an independent third party reflecting the town would receive $7 million in estimated tax revenue over 20 years as a result of the project.

According to latest numbers, the facility would cost the town approximately $4 million.

He said, "Citizens don't want a property tax. They want new retail and restaurants."

Mike Farrar said he agreed with the other council members and said Carefree was much like El Pedregal in some aspects as everything is on the inside.

While El Pedregal may have been a great place at one time, he said once a certain number of businesses leave it goes into a death spiral, whereas the remaining businesses leave when there are too many vacancies.

Farrar sees that happening in Carefree as more businesses shut their doors.

He said he supports the Lewis project but it is simply a matter of due diligence and feasibility for council.

"The other option is take this to a referendum and let the community vote on it," said Farrar.

Lewis previously stated the cultural facility didn't need to be incorporated into his mixed-use condo/retail project, it just needed to be on Easy Street.

Farrar brought up the possibility of building the center on town-owned property near the sundial rather than in the south part of the town center where Lewis plans to build Phase I of his project.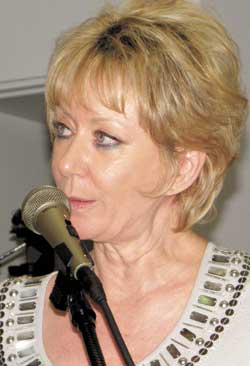 Councilwoman Melissa Price (r) stated, "We're about to lose our most successful gallery (Wild Holly) in town. I just see a property tax looming in the future if the town does nothing."

She said the Lewis project will bring "new pride in our village."

Not wanting a property tax, Price lamented, "Our town center is dying."

She asked council to take a vote at the next council meeting and said they were running out of time.

Price said, "It's time to be bold."

Miller interjected, "ASU needs to start a capital campaign next month."

Mayor David Schwan said the reason they were holding the workshop was for citizens and stated his job as mayor is to bring people together.

He said citizens need to support the project as the town cannot afford to finance ongoing operational costs.

Schwan said they need a 10-year business plan from anyone the town brings in, stating five years, as was proposed by ASU, is not long enough.

Schwan said it is the town's job to bring people to the town but it is the businesses' job to bring people in their doors.

Commenting on Desert Foothills Theater (DFT), which also made a pitch to the town, Miller stated it wouldn't bring a penny in tax revenue.

Miller said DFT is a 501(c)3 organization that doesn't pay tax.

Peterson responded by saying ASU doesn't bring tax revenue either because they're a government entity.

Miller stated ASU comes with the Lewis project.

Farrar questioned doing a request for proposals to build the facility on the town's property.

Lewis' daughter, Kirsten Brown, vice president of Butte Companies, Lewis' development company, answered some of council's questions, including Farrar's regarding building the facility on town property.

Brown stated they incorporated the cultural facility into their project after consulting with both ASU and the town.

To change that now, Brown said they would lose control of the timeline under which the facility would need to be completed and, because they don't own the property being considered, they couldn't develop the facility on someone else's property.

Despite the town having the option to build the facility on its own property, Brown doubted the town would be able to do it at a lower cost, citing economies of scale of it being incorporated into the Lewis project.

She also stated they would have no control over the project's completion, which she stated was a requirement for them moving forward.

Schwan asked Brown, who agreed, to draft a resolution concerning the proposed ASU cultural anchor for council to review, discuss and possibly take action on during the Feb. 3 council meeting.