BY LINDA BENTLEY | JANUARY 7, 2015
MCAO to review criminal charges against Trenk
The March 10 recall election will be held by an all-mail ballot with early voting beginning Feb. 12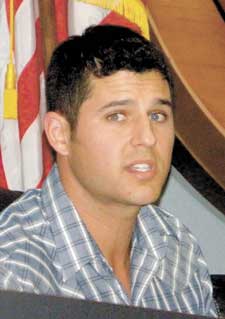 CAVE CREEK – Back in October, Susan Clancy and Hani Saba, chair and treasurer, respectively, of Cave Creek Caring Citizens, the political action committee (PAC) which was successful in forcing a recall election against Vice Mayor Adam Trenk (l) and his three fellow slate councilmen: Mike Durkin, Reg Monachino and Charles Spitzer, filed a complaint against Trenk with Maricopa County Attorney Bill Montgomery.

The complaint urges MCAO to prosecute Trenk for the unlawful act of knowingly signing a name other than his own to a petition or knowingly filling out the name and address portion of the petition with the intent to commit fraud, a class 1 misdemeanor.

A.R.S. 19-115(B) only allows for an exception in a circumstance where one signs for a person at the request of such person who is incapable of signing his own name or printing his own name and address because of physical infirmity.

On March 6, Trenk signed his own recall petition using the name of the late actor James Gandolfini, famous for playing Tony Soprano in the HBO hit series "The Sopranos," and using a fictional address on Yucca Road.

Later that same day, Trenk not only posted an admission on his Facebook page that he had signed the recall petition with his favorite actor's name; he declared the recall campaign against him a "joke."

Trenk sued the PAC and Maricopa County Elections, contesting its determination that there were sufficient signatures to effectuate a recall.

During the June 2 hearing before Maricopa County Superior Court Judge Douglas Gerlach, while under oath, Trenk initially testified he was "taking the fifth" when asked if he signed Gandolfini's name to the recall petition.

It was only until Gerlach directed him to answer the question, Trenk subsequently admitted to doing so.

Trenk actually used the same sheet of petition signatures, on which he signed Gandolfini's name, to invalidate the entire page of otherwise legitimate signers and was successful at thwarting the recall, although only temporarily.

Clancy recently received a call from MCAO and was told the complaint was being referred to their criminal division.

Under other circumstances, Clancy said someone signing a bogus name to a petition might not have been such a big deal.

However, because Trenk is vice mayor as well as an attorney, Clancy stated his conduct, including bragging about violating the law on Facebook, was especially egregious.

Two lawsuits later, the PAC's second effort to recall the four slate council members proved successful.

However, Trenk sued Clancy, once again.

This time he sued to have her removed from the November 2014 election ballot, where she would have been running for reelection to the Cave Creek Unified School District Governing Board, for being two or three valid signatures short.

Since the school board would no longer be taking up her time, Clancy said she had no other distractions and decided she will challenge Trenk for his council seat in the upcoming recall election.

Also running in the upcoming recall are Dick Esser, challenging Monachino; Steve LaMar, challenging Spitzer; and Mark Lipsky, challenging Durkin, provided they are each able to obtain the 94 valid nomination signatures required by the end of this week (Jan. 9).

The March 10 recall election will be held by an all-mail ballot with early voting beginning Feb. 12.