BY MARIELLE D. MARNE | JANUARY 7, 2015
In 2015, out with the old and in with Out West furnishings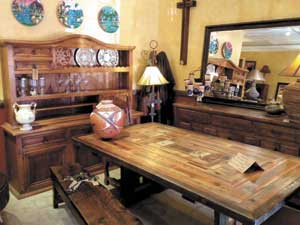 CAVE CREEK – It's a new year and probably time to refresh your home's interior. Why not embrace the unique style that is truly Arizona? Starting January, the Out West showroom (where customers know prices are best) is bringing in lots of leather – sofas, sectionals, chairs, ottomans. It is of the quality your children hand down to your grandchildren!

Additionally, more hand-tooled leather head- and footboards are showcased. If you really want an uber wow-factor in the bedroom, ask about the headboard in copper. With 20 different artisans contributing to the inventory, you can be assured you will have one-of-a-kind pieces.

Out West, so named because we all really do live "out west," is family owned and operated by Robert, Beverly and son Zack Sexton. There's not only talent within the family but a host of experience. Clients find exemplary attention to detail, more personalized services, yet also a warmth and enthusiasm to make a room or whole house as stand-out as its potential allows. "We want you to come in, look around and feel at home!"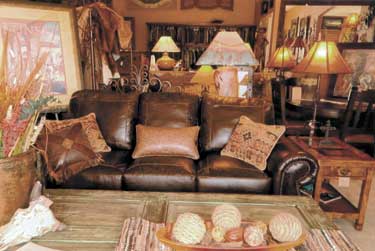 While you can outfit an entire home from Out West, just ask Beverly about her complimentary in-store interior design consultation, there are also smaller changes to make for a big impact. Pillows, paintings, window coverings, custom bedding or Robert can reupholster your item(s) to breathe new or different life into a piece. His motto is "your fabric or ours" so anything goes! He has 25 years experience that reflects in every stitch, every cut.

While the service has remained stellar, the furnishings have been ever-evolving over the last five years in the Out West showroom, so see for yourself at 38252 W. Jacqueline Dr. Customers can find anything for their hacienda in various woods – alder, mesquite, juniper, reclaimed – with all sorts of enhancements – turquoise inlay, desert twigs, saguaro ribs, metal/iron. (Take a peek at www.outwestinteriors.com.) Call 480-575-8000 to explore the possibilities for your abode!