DECEMBER 17, 2014
BY MARIELLE D. MARNE | DECEMBER 17, 2014
AC by J thanks neighbors for past, continued success in heating, cooling, plumbing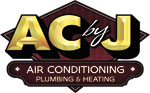 For 33 years, people from all over the valley have relied on AC by J for their heating and/or cooling needs. With the most recent addition of plumbing services, folks again are turning to AC by J, further proving the move was a successful one for the HVAC company.

Because they assure 24/7 service, there are currently five full-time plumbers who can remedy issues with sinks, toilets, disposals, even slab leaks. Or, they can install water treatment systems, i.e., softeners and whole-house water purifiers.

The family owned and operated business continues to boast an A+ rating with the BBB and just reached 100 reviews on Google. Some of the comments? "AC by Jay has been our go-to for all of our heating and cooling needs." "AC by J – Simply amazing at every aspect!" "AC by J, Have always been on time, pleasant, reliable and a good value for more than three years." "We have dealt with AC by Jay for about five years and have always been happy." "AC by Jay is one of the best Air Conditioning, Heating and Plumbing companies I've used in Arizona and I've experienced several."

If the many accolades are not enough to promptly pick up the phone and schedule routine winter maintenance on a furnace, heat pump or water heater, know that AC by J offers several specials. Take advantage of the $59.95/per unit HVAC tune, the $59.95 whole house plumbing inspection or mention "Lucky-J" and get $10 off. (A whole host of other deals can be found at ACbyJ.com.)

To get your home's (or commercial property's) heating, cooling and plumbing in tiptop condition, call AC by J at 480-422-4335.