BY LINDA BENTLEY | DECEMBER 10, 2014
Carefree hires local for marketing and communications position
Council approves shared parking agreement for Easy Street project
CAREFREE – During the Current Events segment of the Dec. 2, 2014 council meeting, Councilwoman Melissa Price told citizens that Carefree, being a small town, is staffed by only 15 employees.

Having advocated for the town to do so for the last three years, Price announced the town just hired Gina Kaegi, a Carefree resident, for its new marketing and communications manager position to market the town, coordinate events and other duties related to the promotion of economic development.

Vice Mayor Les Peterson stated there were 63 qualified applicants for the position, which they narrowed down to six finalists before selecting Kaegi. He said she would be starting that upcoming Monday.

John Crane thanked everyone that helped make the Salute to Veterans event on Nov. 11 a success and said it was attended by around 150 people.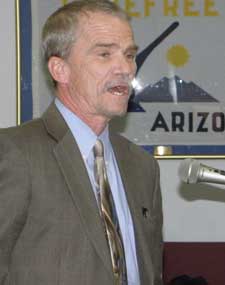 Paul Dale (l), president, Paradise Valley Community College (PVCC) said over 5,500 students have passed through the doors of the PVCC Black Mountain campus, now celebrating its fifth anniversary as he thanked residents for approving the general obligation bonds to build the campus.

Dale invited everyone to attend the groundbreaking for its expansion project that Thursday and said they have plans to continue the campus' growth at its North 60th Street location.

Loretta Mondragon with the College Leadership Council presented an overview of the college and its growth in enrollment over the past five years.

She said the new 20,000 square-foot building, Aguila Hall, expected to open in January 2016, will include multipurpose classrooms, science labs, a computer lab, an observatory with a high-powered telescope and other amenities.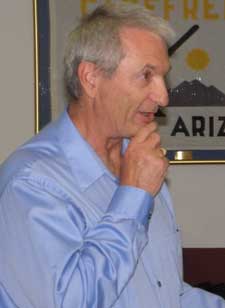 Eileen Yazzi, transportation planning project manager at Maricopa Association of Governments (MAG) introduced Mike Sabatini (l) to present the methodology employed, highlights and recommendations of the Cave Creek – Carefree Transportation Framework Study.

He said safety was a primary concern of those surveyed and some of the other issues raised included transit for the elderly and disabled along with possibly having a seasonal shuttle.

Sabatini stated the majority of the people who responded to the surveys liked the "nodes and corridors" concept, which would reduce traffic to a single lane in each direction at each of the five designated nodes, which he said would give people a "sense of place."

He indicated there was a need for traffic calming measures and additional parking.

According to the study, by the year 2035, seven more signalized intersections or roundabouts will be required.

He said the towns had a good thing going on now for transit with the Foothills Caring Corp.

The report provided some recommendations for funding sources to help pay for the recommended improvements, including Indian gaming grants.

Peterson asked if there was a close second to the recommendation of narrowing down traffic to one lane.

Sabatini said they did not since they used a different type of outreach for the study.

Councilman Mike Farrar said several cities and towns that went to one lane realized afterward they didn't accomplish what they intended.

He asked if the fire department had signed off on that recommendation.

Sabatini stated they had not had that discussion.

During public comment, Jim Van Allen said the resolution council was considering was a cleverly worded document but left out how much it will cost while stating the town managers are authorized to secure funding to carry out the recommendations.

Van Allen said the project recommendations are estimated to cost $11 million and the way it was worded sounds like a blank check for a staff member to decide how to spend.

He also stated the town doesn't have a town manager.

Van Allen asked if council was ready to accept the plan and turn over implementation to someone other than council.

Lyn Hitchon stated when Cave Creek closes down one lane of traffic for bike week or other events, it's a mess, people avoid Cave Creek and she agreed with Farrar on that.

Councilman Marty Saltzman asked if there was a binding legal element to council approving the resolution.

Farrar said the word "implement" concerned him and stated he didn't disagree with Van Allen's comments.

Mayor David Schwan asked how he would reword it.

Council agreed they should change "implement" to "consider" and it would read "secure the funding for the council to consider" rather than "carry out" or "implement."

With a few other changes, council unanimously approved the resolution adopting the study's recommendations.

The item will also appear on the Dec. 15 Cave Creek Council meeting agenda.

Rural/Metro Fire Chief John Kraetz asked council to approve an Emergency Operations Plan, which he said was a radical rewrite, and was necessary to bring it in line with surrounding communities.

Kraetz encouraged council to read the plan; it delineates who does what in the event of a disaster and is extremely comprehensive.

Council voted unanimously to approve the plan.

Council also voted unanimously to approve a resolution to authorize the mayor to execute a shared parking development agreement for Ed Lewis' Easy Street mixed use project.

Lewis said traditional parking codes don't address different demands and a new traffic study recognizes the unique parking requirements for mixed use.

Lewis said mixed use encourages pedestrian traffic and the purpose of the agreement is to reduce the amount of parking spaces in order to make his project more economically viable.

He said under the agreement, the town would require 168 parking spaces and his plan would include 179 spaces.

According to a traffic study, Lewis said the town has 357 parking spaces.

During peak use on a Thursday they were only 30 percent utilized.

Lewis said during peak use on a Saturday they were only 20 percent utilized.

He said the town has a lot of parking except when the town has a festival.

In asking the town to approve the resolution, Lewis said it will help him move forward with more definitive plans, marketing and sales.