BY ROBERT ROMANO | NOVEMBER 26, 2014
Rosy retail forecasts are humbug
The saying "so goes retail" should be ringing in everyone's ears as we head into the Christmas shopping season, kicking off with so-called Black Friday on November 28 — the day retailers supposedly go "in the black" after being "in the red" all year long.

On October 7, the National Retail Federation proclaimed "Optimism Shines as National Retail Federation Forecasts Holiday Sales to Increase 4.1 percent."

Humbug.

Now, maybe it will be a good shopping season and maybe it won't. But here are some factors to consider.

Looking in the rear view mirror, between November 2013 and October 2014, retail sales were up 3.8 percent, according to data compiled by the U.S. Census Bureau.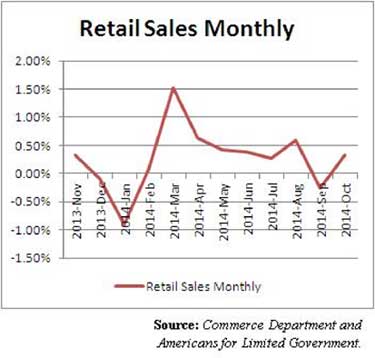 Which is to say, not up very much at all. Between 2010 and 2012, retail actually averaged 5.5 percent growth a year.

At less than 4 percent growth the last 12 months, 2014 so far is shaping up to be one of the worst for retail since the recession.

Which is not good news. Overall retail tends to track with the overall performance of the economy at large.

The Gross Domestic Product (GDP) nominally grew an average 5.45 percent between 1993 through 2007. Compare that with an average 5.47 percent growth a year for retail.

So goes retail, so goes the economy.

A primary indicator of consumer confidence, retail spending has been predictive of overall economic performance since the Commerce Department began publishing the figures in 1992.

When spending is up, consumers are confident, and the economy is performing better in nominal terms. When it slows down, that demonstrates weakening confidence, and thus predicts a weaker economy.

But it is more symptomatic than causative. It tells us what the economy is doing, but not necessarily why it's moving in any particular direction.

What the numbers show right now is an overall slowdown of retail spending throughout the year.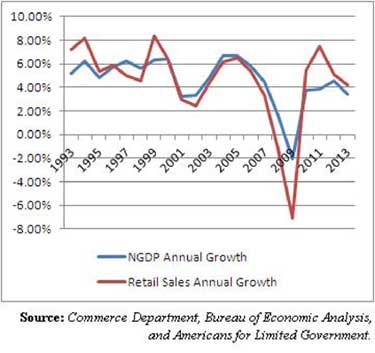 But there is scant evidence it had anything to do with the weather. Much of the retail slowdown occurred long after the snows had melted. The third quarter's 0.6 percent growth for retail was actually worst than the first quarter at 1.4 percent. (The second came in at 1.45 percent.)

All of which puts a giant grain of salt in the somewhat rosy economic news you usually hear at this time of the year.

The fact is, the economy is only averaging 2 percent annualized real growth adjusted for inflation for the year so far. We could get 4 percent in the fourth quarter but still only average 2.5 percent quarterly growth for the year.

So, everyone may be hoping for a great shopping season. We sure hope it is one. But 4.1 percent's rosy prediction — a number that does not take inflation into account — isn't going to get us there.

Robert Romano is the Senior editor of Americans for Limited Government
Business to Business
Out West Quality Upholstery & Interiors for Your Hacienda offers a complete design studio plus staging services. "The Entire Furnishing Boutique" with Designs by Beverly Sexton. 38252 W. Jacqueline Drive, #C. Call 480-575-8000 or email them at outwestaz@gmail.com.
Repair or replace? For honest answers call Iceman Cooling & Heating at 480-306-4064. Get their AC System Tune Up for only $59.95, or a new AC or Heating System for $1,500 OFF! Visit www.phoenixicemanac.com.
At Morris, Hall & Kinghorn, P.L.L.C., they find many estate plans contain errors that could result in beneficiaries losing a portion of their inheritance. To schedule your free consultation visit morristrust.com/contact or call 888-804-5340.
For deck coating systems, caulking, roof restoration and waterproofing, call Complete Roofing and Waterproofing at 480-595-5590. Commercial, Industrial, Residential. Let them show you what differentiates them from others in their industry. completerw.com
Infinite Care Pharmacy proudly serves the Cave Creek area, offering prescription medications, equine supplements, wheelchairs, walkers, compounded medications, veterinary medications and equipment rental. 28248 N. Tatum Blvd., Suite B4. Call 480-656-3349 or visit their website at www.infinitecarerx.com.
Discover Luxury, Elegance and Comfort in Senior Living with The Heritage at Carefree, 36590 N. Pima Rd. (just south of Cave Creek Rd). Offering Independent, Assisted, Memory/Alzheimer and Nursing Services. Call 480-488-1622 or visit heritagecarefree.com.
Call Bodyworks Massage & Healing Studio for their Friday Massage Special at $45 (Introductory price). Located at 6042 E. Valley Way, Bodyworks offers deep tissue, trigger point, lymphatic, Swedish and Reiki massage. Call 480-227-4513 or email adriennebouchardaz@gmail.com