NOVEMBER 12, 2014
Maricopa County Parks are telling residents to 'Take A Hike!'

MARICOPA COUNTY – Have you ever wanted to tell someone to take a hike? Later this month, you'll have a chance to do just that!

Maricopa County's Parks and Recreation Department will be celebrating National Take A Hike Day a day early, on November 16. While there is very little information available on the history of National Take A Hike Day, the concept aligns with the department's goal to get people outdoors.

"Last year, the department waived the day-use park entry fee on National Take A Hike Day to encourage people to 'take a hike' in a County park," said Maricopa County Board of Supervisors Chairman Denny Barney, District 1. This year, the department will waive the day-use entry fee on Sunday, November 16, to allow more people to take advantage of the offer.

"I plan on enjoying a hike at Lake Pleasant Regional Park with my family on November 16," said District 4 Supervisor Clint Hickman. "A hike is great exercise and a fun family experience."

"In addition to recognizing National Take A Hike Day, the department will also be celebrating the unveiling of several new trails at Lake Pleasant Regional Park. By paring the two events, park visitors can join us for the festivities and ranger led hikes for free," said R.J. Cardin, Maricopa County Parks and Recreation Department Director.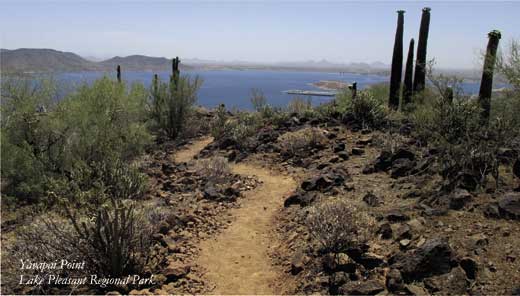 Lake Pleasant Regional Park will host a special celebration at 1 p.m. on November 16 to recognize the introduction of three new trails at the lake: Yavapai Point, Wild Burro and the Cottonwood Trail. Park visitors are invited to partake in a brief celebration at the Cottonwood Day-Use Area Trailhead, followed by a leisurely hike along the newly constructed Yavapai Point Trail to the top of Yavapai Point.

"The new trail holds some of the most amazing views at Lake Pleasant. The hike is roughly three-miles round trip with a special treat at the base of the mountain. For those interested in a shorter trek, we'll have a one-mile hike that focuses on the history of the park while showcasing its beauty. If you're participating in the 100 Miles in 100 Days Challenge, this is a great way to log extra miles," Cardin added.

Maricopa County is home to one of the largest regional parks systems in the nation with over 120,000 acres of open space parks that include hundreds of miles of trails.

"In addition to our various County Parks, it's important for folks to recognize that the Maricopa Trail is a wonderful additional hidden gem maintained within the Maricopa Park system and open to hikers and visitors throughout," added District 3 Supervisor Andy Kunasek. "It connects many communities to our county parks and includes many recently unveiled new segments for people to explore. Maps for completed trail segments can be found on the department's website."

Park visitors are reminded that although temperatures may be cooler, appropriate hiking attire, sunscreen and an ample supply of water is still necessary. In recognition of Take A Hike Day, the $6 per vehicle day-use entry fee will be waived at all of Maricopa County's regional parks on November 16, 2014, all other fees apply.

For more information on the Lake Pleasant Regional Park Trails Grand Opening Celebration, visit www.maricopa.gov/parks/lake_pleasant. For information on upcoming Take A Hike Day events, trail maps and park locations, visit www.maricopa.gov/parks or call (602) 506-2930.