OCTOBER 29, 2014
Announcing the new Russ Lyon Sotheby's International Realty Office: The Rancho Mañana Discovery Center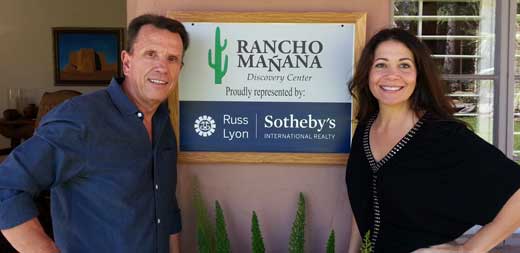 CAVE CREEK – Cave Creek is the home base for the new Russ Lyon Sotheby's International Realty, Discovery Center at Rancho Mañana. It was recently opened by local agents Tom Fulton and MariaElena Rizzo. The two agents have partnered in the venture on sight at the lovely Rancho Mañana Resort.

"We saw an opportunity here to re-introduce the Rancho Mañana Private Residence Club and related real estate assets. In addition, we provide a full service brokerage to locals and visitors while they are enjoying the Rancho Mañana Resort," according to Fulton.

Rancho Mañana's long, rich history includes ranching, cotton farming and in the late 1930s a transformation into a Dude Ranch by the Loring and Lowdermilk families. Today the Rancho Mañana Resort resembles a Spanish Hacienda and includes the Rancho Mañana Private Residence Club, a Championship golf course, a 16,000 square foot Spa and a beautiful resort style pool!

There are Open Houses daily 9 a.m. to 5 p.m. to see properties in the area and gain information on things to do. Tom and MariaElena look forward to meeting with clients in this cozy new office and discussing all their real-estate and vacation needs.

For more in Info on the Rancho Mañana Private Residence Club visit www.RMPRC.com. The Rancho Mañana Discovery Center is located at 5734 E Rancho Manana Blvd., Cave Creek AZ 85331. 480-489-1811.