BY LINDA BENTLEY | AUGUST 20, 2014
'Rooting out public corruption remains one of the FBI's highest priorities'
CAVE CREEK – Last week a federal grand jury handed down a 16-count indictment against Karen Finley, of Cave Creek, former CEO of Phoenix-based Redflex Traffic Systems, Inc., alleging she provided John Bills, the now-retired city of Chicago official, with approximately $570,000 cash and other benefits in exchange for inside information that would assist Redflex in obtaining, keeping and expanding its Chicago red light contracts that blossomed into $124 million.
BY LINDA BENTLEY | AUGUST 20, 2014
BROWNSVILLE, Texas – Last week, U.S. District Judge Andrew S. Hanen ordered a hearing at 1:30 p.m. on Aug. 27 to address all pending motions in a complaint brought by California Attorney Orly Taitz against President Barack Obama, Secretary of the Department of Homeland Security (DHS) Jeh Johnson; Director of Health and Human Services Sylvia Burwell and the U.S. Border Patrol Rio Grande Valley Station.
BY LINDA BENTLEY | AUGUST 20, 2014
BMO Harris Bank robbed?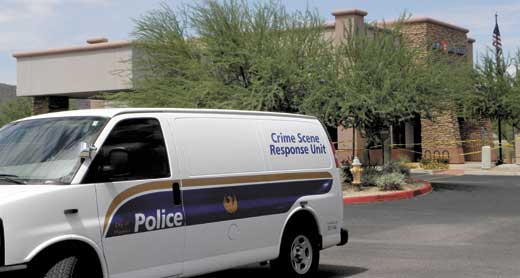 From the crime scene tape blocking off the area to the Phoenix Police Crime Scene Response Unit van parked in the parking lot, it appeared that the BMO Harris Bank branch located at 48th Street and Carefree Highway was robbed Monday morning. Repeated efforts to contact Phoenix Police Department for more information by both phone and e-mail were ignored.