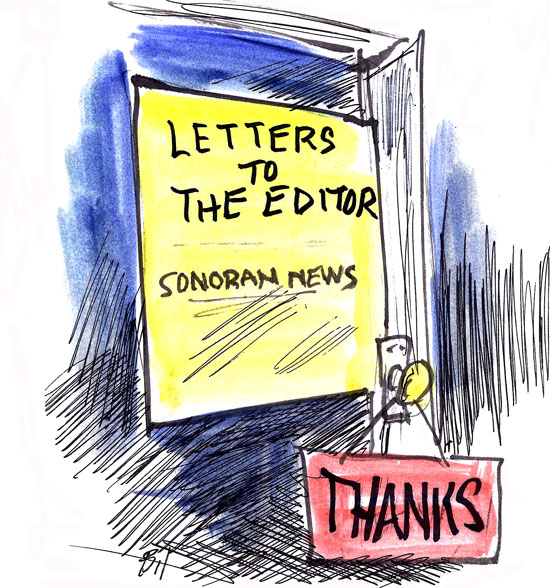 A key issue that has far reaching implications to all residents of Scottsdale
Editor note: An updated summary of four major projects that will impact Scottsdale residents is available HERE. It is long, but deserving of your time to read and consider Howard Meyer's commentary.

I am passing along these messages from former city council candidate Copper Phillips and former city Treasurer and current city council candidate David Smith because they reflect on a key issue that has far reaching implications to all residents of Scottsdale, the so called "entertainment district." The one thing I admired about David Smith, when he was the city treasurer, is that he told the city council the truth rather than echoing what they wanted to hear. He told them their budget was not sustainable, which is true, and he told them the entertainment district is a drain on the city and backed it up with facts. The critical basis of any relationship is honesty and he demonstrated that he is definitely honest.

On the entertainment district, if you think it isn't your problem, think again. As this piece points out, and proves with numbers, it will result in higher taxes we all will have to pay to make up for the deficit this district inflicts on the city. You may have seen a mailer sent out by a group called "Scottsdale Strong" that advocated for the bars by touting downtown as an economic engine. While it is true that downtown is an economic engine, the bars subtract from that not add to it, as David's analysis shows.

However the real deficit isn't just the cost of police and fire support David mentions, but the loss of other sales tax income as tourists and residents that currently shop and go to restaurants down town are driven out by the noise, congestion, crime, danger, and filth that result from what is called the largest concentration of bars in the county. The action around the bars is also generating law suits against the city for not providing a safe environment, so there are additional costs that are not mentioned in David's analysis. You should know that other bars with live entertainment and outdoor speakers, are being approved in other areas of the city, as far north as Bell Road by McDowell Mountain Ranch, and of course there is a current application for a bar with live entertainment right next to the Tom's Thumb trail head in the McDowell Mountain Preserve.

This is just another example of bad council decisions and policies that have a huge negative impact on our city's desirability that attracts both tourists and higher income residents who contribute more to the city's income than they incur in expenses. It has been proven that most development costs the city more than the income it generates, but tourism definitely produces more income than expense and higher income residents contribute as much or more income than they require in expenses, so it is critical to keep attracting both of them. As we drive them out and replace them with bar hoppers and apartment dwellers, the city will incur far more expenses than they will receive in income, and that loss will have to be made up by us residents. This is why this election is so critical and why we hope you will consider the three candidates we endorsed, Kathy Littlefield, David Smith, and Bill Crawford. If we don't win all three seats, the city will continue in the current direction and we will all pay for it in the form of more congestion, loss of views, higher taxes and loss of our high quality of life.

Howard Meyers
Scottsdale

From: Joanne Phillips
Subject: FW: Entertaining Scottsdale

Hi, Folks.
As usual this time of year, there is a lot of misinformation floating around about political issues and opinions. It's hard to sort fact from fiction. If you want to read some hard facts, please read the attached synopsis about the "Entertainment District." Remember the property tax increase recently passed by the current Council? It was to pay for several monetary settlements resulting from lawsuits, one of which caused by a drunk driver smashing into a pedicab driving on Scottsdale Rd, (we had no pedicab restrictions at the time, not wanting to hinder the bar district commerce). Those costs are not included in this analysis, but you can add it on. I toured the bar district... er…Entertainment District… from 11 p.m. – 3 a.m. on a Saturday night. I felt safer working in the mental hospitals in NY!
Happy Trails,
JCP, Joanne "Copper" Phillips

From: David Smith
Subject: Entertaining Scottsdale

Dear Friends…
Anytime I talk about the City's Entertainment District, I'm struck by the fact that most citizens don't know where it is and have never been there. It's actually a pretty small area to be creating such a large amount of controversy!

When I speak at Council Candidate Forums, I often describe the Entertainment District as the answer to a vision…just not a vision ever shared by the citizens of Scottsdale. In this week's newsletter, I've tried to explain what I mean by that statement. (Below)

I urge you to pass this email along to friends on your email directory with my invitation for them to join my campaign.

As always, I would be interested in hearing from you.

David N. Smith
Candidate for Scottsdale City Council
Incidentally – a candidate forum will be re-broadcast on Scottsdale's Channel 11 Sunday at 9 a.m. and at 1, 5, 8, and 11 p.m. The entire broadcast can also be viewed online.
Paid for by the "Elect David N. Smith to Council" Committee. Jim Bruner, Chairman, Hon. Carolyn Allen, Co-Chairman, Judy Frost, Treasurer
The ugly slate
The details of this smarmy slate's (Trenk, Monachino, Durkin & Spitzer) firing of the town manager and hiring the unqualified Mr. Glassman are now beginning to emerge. Cave Creek voters who have not yet read the former Town Manager's Motion for Summary Judgment in his lawsuit against the town should read it. The link is available in the August 13, 2014 edition of the Sonoran News as is Linda Bentley's summary. The motion is concise, compelling, difficult to put down and will leave you wanting to take a long shower to remove the slime.

This slate ran on a host of lies, one of which was their promised transparency. Since being elected, they have been the most secretive council in memory and, in this case, they pulled every trick they could to keep their emails secret from the legal discovery process. These guys just naturally skulk around in the shadows. Unfortunately for them, and astonishingly eye opening for the Cave Creek electorate, this motion provides key documentation of their activities in their own words prior to their being seated on the town council and it is stunning.
They expose themselves as they are – arrogant, conspiratorial, devious, dishonest and remarkably stupid. They are led by the nose by Trenk, who secretly recorded conversations, and his loyal lap dog, Monachino, who locked up the 4 votes to hire Trenk's unqualified buddy Glassman. The slate gives you all of this including a $10,000/month legal bill. Cave Creek will remain in trouble as long as this slate is in office, and clearly it must rid itself of these disingenuous and dangerous individuals at the earliest opportunity.

Bob Williams
Cave Creek
Thank You John Ford
I am pleased to join the growing chorus of citizens who thank John Ford for his service to the Town of Cave Creek. I served with John on the Planning Commission for some years and witnessed someone who dearly loved his home town. His service was always dedicated to the health, welfare and safety of the town and its citizens. John always demonstrated through his years of service, sound and reasoned views with regard to town issues. I wish him well in his future pursuits.

Reg Monachino
Cave Creek
Help the Desert Foothills Library with Fry's Community Rewards
You can help fund the library by signing up for Fry's Community Rewards and nominating the Desert Foothills Library as your preferred non-profit.

Everyone at the Library appreciates your help. Remember, there is no cost to you in enrolling in the Community Rewards Program and nominating the Library. However, it helps us to provide library services and a full program of events to the community.

Visit www.dfla.org.

Sincerely,

David Court, Executive Director
Desert Foothills Library
The real story
Question: When does a 6" 4", 290-pound, 18-year old, strong-arm robbery perpetrator, beating up a police officer INSIDE THE SQUAD CAR become an "unarmed black teenager?" '

Answer: When the LameStream Enemedia, subservient to Comrade Dear and Glorious Ruler, Hussein the Magnificent, feel they can precipitate the civil war that is ready to break out. It's newsworthy, right? After all, if it bleeds, it leads.

Commentary: One of the parameters for the use of deadly force in every state is an unarmed physical attack upon a peace officer, where the attacker is possessed of superior strength due to his size, youth and weight. The presumption is that he is trying to gain access to the officer's firearm, chemical agent or impact tool, to incapacitate and eventually murder the officer. If the FBI is impartial in its findings, the case will be closed. However, local and federal law-enforcement units had better be prepared for a Mau-Mau style insurrection, with murder, arson and wholesale looting. Don't expect Obama's lapdog LameStream Enemedia to file impartial reports, though. In their eyes, Brown is still an "innocent, unarmed, black teen-ager," and not an 18-year old MAN, 6" 4" and 290 pounds, intent on murdering a peace officer after having robbed a convenience store.

J-P. A. Maldonado
Prescott Valley
Newsletter from David N. Smith – 2014 Candidate for Scottsdale City Council

August 3, 2014
Dear Friends…

A topic frequently debated in Council Candidate Forums is our City's so-called "Entertainment District." I've frequently given this as an example of Council not following the vision of citizens. Let me explain…

Supporters of the District tout it as one of Scottsdale's most significant economic engines, a major employment center and generator of local sales tax revenues. Some Candidates echo this message, although their enthusiasm often simply mirrors the source of their campaign contributions. Recently, citizen mailboxes were stuffed with a postcard that extolled the virtues of "Downtown Scottsdale…one of our most significant economic engines." Most of the quoted statistics were from a 2012 study commissioned by the BACIC (Beverage Alcohol Community Information Council.) Hhmmm…?

Some of the controversy over this area was fueled in late 2011, when I was your City Treasurer. A cost-benefit study on the Entertainment District I prepared concluded; "The bars in the entertainment district provide incremental revenue of $400,000, but the incremental costs of public safety amount to $1,200,000." Within months, supporters of the Entertainment District commissioned the BACIC study that concluded, not surprisingly, the economic benefits were multiples more than my 2011 study.

Google Maps™: The District is bounded by Scottsdale Road, 75th Street, Camelback and Indian School. It is the most concentrated bar area in Maricopa County, if not the State.

To reach their quite different conclusion, the BACIC study included restaurants as well as bars (even though restaurants don't require additional public safety resources); they expanded the study area to encompass all of downtown (an area four times as large as the bar district); and they included the multiplier benefit of spending by employees (2,696 jobs paying an average of $23,000 a year!)

• Citizens envision a city known for tourism. In reality, the visitors to this district are not tourists who spend money at hotels, fine restaurants, shops in Old Town Scottsdale or Fashion Square.

• Citizens envision capturing good paying jobs to improve economic prosperity. This industry's $23,000 salary is less than half the City's 2007 per capital income of $49,158.

• Citizens envision a city known for its arts and culture. One recently expanded bar boasts it can accommodate 1,000 patrons…more than the 800-seat capacity of our Performing Arts Center.

• Citizens envision a safe community. The Entertainment District requires an enormous dedication of public safety personnel to protect themselves, as well as citizens and visitors.
• Citizens envision a high quality of life. Behaviors in the Entertainment District have made it necessary to pass an ordinance against public urination and defecation. In Scottsdale!

When a bar seeks special treatment, they should answer, "What will your business do for the citizens of Scottsdale?" When we grant a Conditional Use Permit (CUP) to a bar, it should be truly conditional. If bars incur incremental costs, they should not expect citizens to provide them a public subsidy.

You expect your Council will pursue visions of Scottsdale citizens and insure your tax dollars are spent wisely. I am committed to this and ask for your support in the upcoming Council election.

Paid for by the "Elect David N. Smith to Council" Committee
Cut foreign aid, not our military
The Department of Defense sent out separation notices to 1200 Army captains, including 48 deployed to Afghanistan. They received eight to nine months of notice so they could prepare for civilian life. What good is the notice for the captains deployed to Iraq for the next eight or nine months? How will this affect their performance in a war zone?

The next group to get the ax will be majors, and I can only assume this will continue up the line to officers who have not served the 20 years needed to retire and receive their retirement benefits.

The separations are part of the force reductions necessitated by the sequestration defense cuts. The projected savings in defense spending across all branches of the service will be $3.5 billion over five years.

Our foreign aid is $37 billion annually. If we cut it by 2 percent, or $0.74 billion per year, we will save $3.7 billion over five years, and not have to cut our military forces. Surely, with some rational thinking, we can squeeze 2 percent out of the foreign aid budget without jeopardizing our interests overseas, which will allow us to maintain our current force levels and enhance our national security.

Donald A. Moskowitz
Londonderry, New Hampshire
Is a prayer for the oppressed too much to ask from you religious leader?
When was the last time your readers heard their pastor, priest or Rabbi mention the Declaration of Independence stating: "We hold these truths to be self-evident, that all men are created equal, that they are endowed by their Creator with certain unalienable Rights, that among these are Life, Liberty and the pursuit of Happiness." I ask that because if it were not for our churches back around 1776 we would still be a British colony!

And when was the last time their religious leaders asked them to pray for all the Christians, Jews and Muslims not extremist enough, being tortured and savagely slaughtered for the mere fact of not being a Muslim Extremist? Has their place of worship expressed the slightest concern that our open borders are putting innocent Americans at physical, medical and economic risk or that our taxes are funding the same terrorists groups that attacked us on 9/11/2001?

And yet according to our government anyone who admires our founding fathers, has Christian values, and has a reverence our US Constitution is risk to our bank run nation. But that list also includes homeschoolers, veterans, people with food stocks and guns for home defense. I implore that your readers demand of their religious leaders to speak from their heart about our freedoms and not live in fear of their 501C3 status or they will find another place of worship that understands and appreciates our rights endowed to all of us by our Creator. Rev. Jesse Jackson, Rev. Jeremiah White and Rev. Al Sharpton never seem worried about losing their 501C3 status! Or is the political hate speech from these characters A-OK because they are for a bigger and bigger liberty robbing government? It is bad enough that our major media are mere puppets for our government. Now it appears that so are our MOST of places of worship. All that it takes for evil to prevail is for good people to do nothing. I suggest that those of your readers who claim to believe in a Creator stop acting like sheep and demand a prayer for those being massacred for their religious beliefs.

Sincerely,

Joseph DuPont
Towanda, Pennsylvania
Back