AUGUST 13, 2014
Harold's Cave Creek Corral hosts 17th Annual Hawaiian Luau on Sun., Aug. 31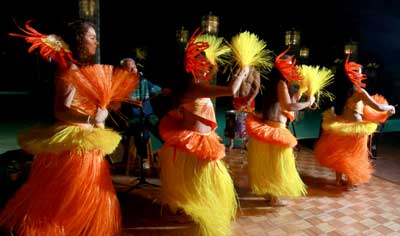 CAVE CREEK – If you can't escape the heat this Labor Day weekend, a Hawaiian Luau in Cave Creek may be exactly the kind of getaway you need to celebrate the end of summer. Harold's Cave Creek Corral is hosting its 17th Annual Hawaiian Luau, which features a pig roast luau buffet, Tia's Royal Islanders Hawaiian Luau Dancers, a reggae performance by Grantman & the Island Beat, a limbo and hula contest, face painting, Lei making, Hawaiian vendors, drink specials and more.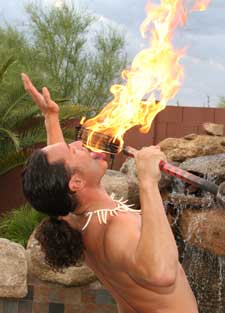 Danny "Maui Dan" Piacquadio, Harold's Corral's co-owner, says the restaurant's Luau is one of the most popular events of the year. "We have a ton of fun transforming our Western bar into a Hawaiian setting. You won't find many other places in town where you can watch a thrilling "Fire Knife Dance," participate in a limbo contest and feast on traditional Hawaiian cuisine," Piacquadio said.

Because last year's event sold out, guests are encouraged to purchase their tickets early.

The event schedule follows:
6 p.m. Gates open

6:15 p.m. Hawaiian buffet begins (two Pig Roast buffet stations). The delicious buffet will include succulent roast pork, smoked Mahi Mahi, a shrimp/seafood casserole, herb roasted chicken, Teriyaki steak, and other traditional Hawaiian cuisine. A Hawaiian band will also begin performing outside.

6:30 p.m. Limbo contest

7:45 p.m. Luau show begins outside. Tia's Royal Islanders Hawaiian Luau Dancers will perform authentic Hawaiian Luau dances including the traditional "Fire Knife Dance."

8:45 p.m. Grantman & the Island Beat perform reggae music inside

Open seating is first come first serve. Tickets are $25 per adult and $12 for children 12 and under. Larger parties can purchase a 10-top VIP table for $300 which includes a front row table, cocktail service and complimentary Hawaiian gift.

Harold's Cave Creek Corral is located at 6895 E. Cave Creek Rd. To purchase tickets, call 480-488-1906 or visit www.haroldscorral.com.