BY LINDA BENTLEY | JULY 16, 2014
Abujbarah's claims proceed
Legal costs top $100,000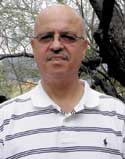 Former Town Manager Usama Abujbarah (r) filed a second complaint last month against the town and Vice Mayor Adam Trenk in U.S. District Court for Civil Rights Act violations, whereas Trenk allegedly told Abujbarah retaining his job was contingent upon terminating his affiliation with Sonoran News and Don Sorchych, its publisher/editor.

When Abujbarah wouldn't agree to his terms, Trenk led his slate of newly-seated council members in a motion to terminate Abujbarah.

Legal fees incurred by the town brought on by the actions of Trenk and the other three slate councilmen, Mike Durkin, Reg Monachino and Charles Spitzer have already topped $100,000.

There will be an executive session prior to Monday night's regular council session to discuss Abujbarah's pending litigation, among other issues, including legal advice regarding the use of public resources.