JUNE 25, 2014
Obituary: Caroline Olshefska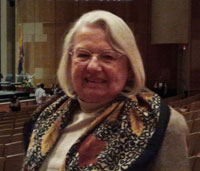 Caroline Olshefska, 75, of Cave Creek, passed away on June 17, 2014 after battling with pancreatic cancer. She will be greatly missed.

After graduation from Lew Wallace High School, Caroline went on to receive her Master of Music from the Conservatory of Chicago. Throughout the past 55 years she warmed people's hearts both young and old with the gift of music by teaching piano and music theory. As a founding member of Arizona Musicfest, she enjoyed spending much of her time bringing classical music to others. She also enjoyed traveling, attending live classical concerts and spending time with family and friends. She is survived by her daughters Stacey Derdowski of Tempe, Arizona. and Amy Bethprana Novi of Portland Oregon and many cousins.

In lieu of flowers, contributions can be made to the America Cancer Society or the charity of your choice.