JUNE 11, 2014
Tobias' Automotive Specialists celebrate
Shop employees at Tobias' Automotive Specialists in Cave Creek celebrate their 2014 AAA Top Shop Award. This is AAA's highest recognition and the sixth consecutive year Tobias' Automotive has been honored. Tobias' Automotive in Cave Creek is located at 6602 E. Cave Creek Road, open Monday through Friday, 7:30 a.m. – 5 p.m. For more information visit www.tobiasauto.com.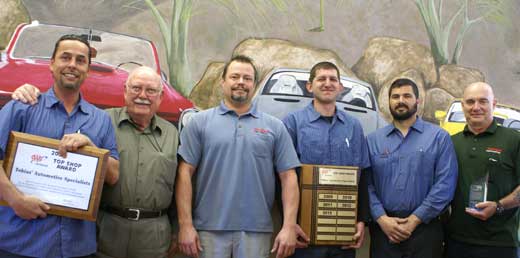 JUNE 11, 2014
Happy anniversary to Merle Norman studio
A ribbon cutting recently took place at Merle Norman Studio in Carefree. Holding the scissors is owner Barbara Norris and her husband Jeff. Surrounding Barbara and Jeff are clients and members of the Carefree Cave Creek Chamber of Commerce. Barbara was excited for her one year anniversary and newly remodeled studio. We congratulate her success.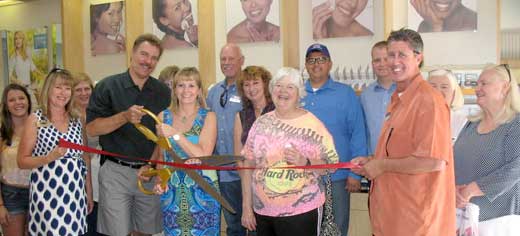 JUNE 11, 2014
Congress can help where Arizona fell down
PHOENIX – Tuesday's release of one of the nation's most trusted economic surveys casts in sharp relief how pervasive our political leaders' inattention to small-business job creation is, according to the Arizona state director of the National Federation of Independent Business, America's voice of small business.
Business to Business
Lowest Price Guarantee at Outwest Interiors. Quality Furnishings Boutique; Designs by Beverly Sexton. Free Interior Design Consultation. Satisfaction Guaranteed. Visit their showroom located at 38252 W. Jacqueline Dr., Suite D in Cave Creek or call 480-575-8000.
Rancho Mañana Golf Club is an experience that truly represents golf in the Arizona desert. Visit www.ranchomanana.com and click on the rate page. You won't believe the special green fee sale pricing. Book Your Tee Time now to guarantee the savings! Call 480-488-0398.
Open seven days, Dove Valley Animal Hospital is there for your pet. Located at 4815 E. Cave Creek Rd. (near Fry's), emergencies can usually be seen; of course, appointments are encouraged. See www.dovevalleyah.com for more information or call 480-595-5731 for hours, directions and details.
Look for the Cibo e Vino coupon in Sonoran News print edition for a free pasta meal with purchase of pasta meal and two full priced alcoholic beverages. Dine in only. Not good with any other offer. Expires August 31. Make a reservation for Fathers Day Brunch. 34522 N. Scottsdale Rd. Call 480-595-6600 or visit ciboevinoaz.com
State Farm Agent Bill Mulliniks can help you with any of your insurance – home, auto, life, renters – or investment needs. Start saving now. Give Bill or his staff a call at 480-488-2101 or stop by 748 Easy St. in Carefree. E-mail Bill at bill@billmulliniks.com.
For deck coating systems, caulking, roof restoration and waterproofing, call Complete Roofing and Waterproofing at 480-595-5590. Commercial, Industrial, Residential. Let them show you what differentiates them from others in their industry.
Mikhail Prokopets, DDS is making it easy to have a beautiful healthy smile with limited-time specials. Save your smile and see Dr. Prokopets at 28260 N. Tatum Blvd. Call 480-515-1464 for details.