MAY 7, 2014
Arizona Musicfest announces Anna Han recipient of 2014/2015 Scholarship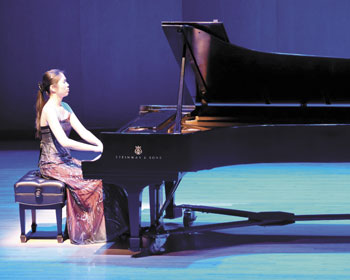 SCOTTSDALE – Arizona Musicfest is proud to announce the 2014/2015 Arizona Musicfest Scholarship Recipients. The newest recipient of The Arizona Musicfest Scholarship is Anna Han, pianist, from Chandler, Arizona. Ms. Han will attend The Juilliard School (at Lincoln Center for the Performing Arts, New York City).

"Over the past number of years, I have been lucky to experience firsthand Arizona Musicfest's strong commitment to encouraging aspiring musicians to pursue their dreams and grow as artists," said Anna Han. "I am extremely grateful to be a recipient of the Arizona Musicfest scholarship award, and by extension, their continued support as I venture into what will likely be a pivotal period of development."

The Arizona Musicfest Scholarship of $2,500 is awarded annually in May to highly qualified young musicians who excel at their instrument and are pursuing a college-level education with the goal of establishing a full or part-time career in classical music performance. Previous winners of the Arizona Musicfest Scholarship are eligible for annual scholarship renewals during their college education. Renewing scholarship winners currently attend Arizona State University School of Music, USC's Thornton School of Music, Cleveland Institute of Music and the Eastman School of Music. Including this year's $12,500 in financial assistance, The Arizona Musicfest Scholarship has awarded a total of $32,500 since its inception in 2011.